Silence, Geffrye Museum, Edward Petherbridge, Ruth Prawer Jhabvala
'In the beginning was the word', says John's Gospel. But silence followed very quickly, according to historian of the Church Diarmaid Macculloch. His new book 'Silence: A Christian History' examines the various roles silence has played in the development of Christianity, from 4th-century hermits in the Syrian desert to the more recent reluctance to face up to clerical child abuse. Diarmaid Macculloch joins Anne to help fill in the gaps.
The Geffrye Museum in East London is in the news at the moment because of its plans to demolish a mid-Victorian public house. The director David Dewing says it's because the museum's focus is on the middle classes, an area, he argues, neglected by the museums sector. He debates this idea with Selina Todd, historian of the working classes and Anne McElvoy.
5 years ago - during rehearsals for the role of King Lear - British actor Edward Petherbridge suffered two strokes which left him barely able to move. During his recovery, he found that the entire role of Lear still existed, word for word, in his mind. His new play My Perfect Mind, moves between his dream role being cut short and overcoming the trauma he suffered to the brain. To discuss the neurological nuances, Night Waves brought together Edward Petherbridge and former physician and gerontologist, Raymond Tallis.
And film critic Ian Christie remembers the novelist and screenwriter Ruth Prawer Jhabvala who died yesterday at the age of 85. She won two Oscars, one each for her adaptations of E M Forster's A Room With a View and Howards End. She also won the Booker Prize in 1975 for her novel Heat and Dust.
Last on
Diarmaid MacCulloch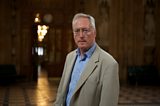 Silence: A Christian History written by Diarmaid MacCulloch is published by Allen Lane.
Photo credit: Chris Gibbions.
Edward Petherbridge
Told by an Idiot's production of My Perfect Mind starring and written by Edward Petherbridge is on now at The Young Vic, London until Saturday 27 April 2013.