Main content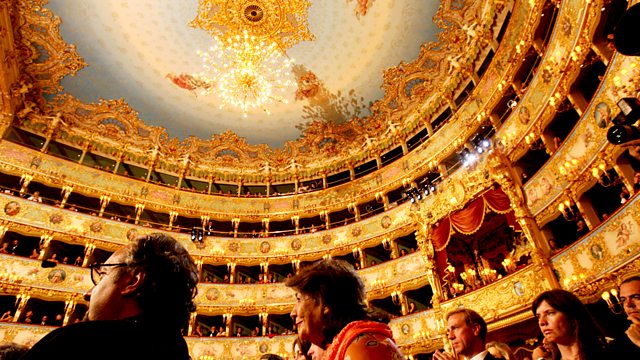 Verdi 200 - Otello
Verdi's Shakespearean masterpiece Otello in a performance given at Venice's Teatro La Fenice. With Gregory Kunde and Leah Crocetto.
Verdi 200: Otello
Verdi's great late Shakespearean masterpiece is set against the background of the Venetian Republic's struggles against the Ottoman empire. Appropriately then, this performance was recorded at the city's Teatro La Fenice. Gregory Kunde takes the title role of the respected moorish general in the Venetian army whose downfall is his jealousy. Lucio Gallo sings the manipulative Iago who is determined to destroy his nemesis and Leah Crocetto, Otello's loyal but doomed wife Desdemona.
Verdi: Otello
Otello, a Moorish general in the Venetian army..... Gregory Kunde (tenor),
Desdemona, his wife..... Leah Crocetto (soprano),
Iago, Otello's ensign..... Lucio Gallo (baritone),
Emilia, wife of Iago and maid of Desdemona..... Elisabetta Martorana (mezzo-soprano),
Cassio, Otello's captain..... Francesco Marsiglia (tenor),
Roderigo, a gentleman of Venice..... Antonello Ceron (tenor),
Lodovico, ambassador of the Venetian Republic..... Mattia Denti (bass),
Montano, former Governor of Cyprus..... Matteo Ferrara (bass)
La Fenice Chorus
Piccoli Cantori Veneziani
La Fenice Orchestra
Myung-Whun Chung (conductor).