Main content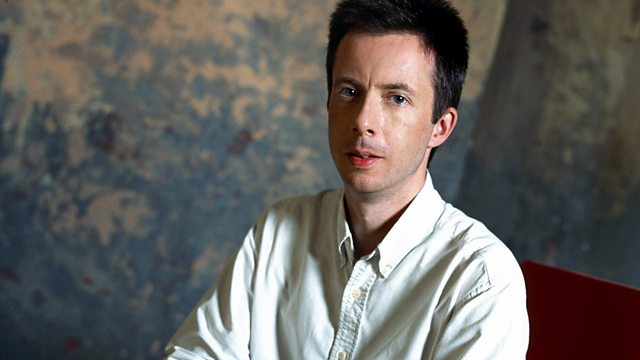 02/04/2013
John Shea's selection includes the Pavel Haas Quartet performing two works by Dvorak.
John Shea presents the Pavel Haas Quartet in 2 works by Dvorak
12:31 AM
Dvorak, Antonin [1841-1904]
Quartet No.12 in F major, Op.96 'American'
Pavel Haas Quartet
12:58 AM
Dvorak, Antonin [1841-1904]
Quintet in E flat major Op.97 for strings
Pavel Haas Quartet
1:30 AM
Martinu, Bohuslav (1890-1959)
Sonatina for clarinet and piano
Valentin Uriupin (clarinet), Yelena Komissarova (piano)
1:42 AM
Shostakovich, Dmitry (1906-1975)
Chamber Symphony (Op.110)
Slovak Chamber Orchestra, Bohdan Warchal (director)
2:05 AM
Dohnányi, Ernõ (1877-1960)
Variations on a Nursery Song (Op.25)
Arthur Ozolins (piano), Toronto Symphony, Mario Bernardi (conductor)
2:31 AM
Bortnyansky, Dmitry [1751-1825]
Concerto for chorus No.6 "Glory to God in the Highest"
Platon Maiborada Academic Choir, Viktor Skoromny (conductor)
2:36 AM
Tchaikovsky, Pyotr Il'yich (1840-1893)
Symphony No 1 in G minor 'Winter Daydreams'
Bergen Philharmonic, conductor Alan Buribayev
3:18 AM
Vivaldi, Antonio (1678-1741)
Concerto for violin and orchestra in F minor (RV.297) (Op.8 No.4), 'Inverno' (Winter)
Elizabeth Wallfisch (baroque violin), Australian Brandenburg Orchestra, Paul Dyer (director)
3:26 AM
Pejacevic, Dora (1885-1923)
Four piano pieces
Ida Gamulin (piano)
3:37 AM
Handel, Georg Frideric (1685-1759)
Il Pastor Fido, ballet music
English Baroque Solists, John Eliot Gardiner (conductor)
3:48 AM
Goossens, (Aynsley) Eugene (1893-1962)
Fantasy for nine wind instruments (Op.36) (1924)
Janet Webb (flute), Guy Henderson (oboe), Lawrence Dobell & Christopher Tingay (clarinets), John Cran & Fiona McNamara (bassoons), Robert Johnson & Clarence Mellor (horns), Daniel Mendelow (trumpet)
3:58 AM
Goldmark, Károly (1830-1915)
Winter's Tale - Overture (1907)
The Hungarian Radio Orchestra, Ervin Lukács (conductor)
4:08 AM
Fontana, Giovanni Battista (c.1592-1631)
Sonata XVI, for 3 violins & continuo
Il Giardino Armonico
4:13 AM
Spadi, Giovanni Battista (early c.17th)
Anchor che col partire, Diminution des Madrigals von Cipriano de Rore
Il Giardino Armonico
4:16 AM
Castello, Dario (first half of c.17th)
Sonata IV, for 2 violins and continuo
Il Giardino Armonico
4:25 AM
Kerle, Jacobus de (1531/2-1591)
Agnus Dei - super ut-re-mi-fa-so-la
Huelgas Ensemble; Paul van Nevel (director)
4:31 AM
Schoeck, Othmar (1886-1957)
Zwei Klavierstücke (Op.29)
Desmond Wright (piano)
4:39 AM
Strauss, Johann Jr (1825-1899)
Treasure Waltzes (Op.418) - from Der Zigeunerbaron Act 1 Finale
Kitchener-Waterloo Symphony Orchestra, Raffi Armenian (conductor)
4:48 AM
Huggett, Andrew (b. 1955)
Suite for accordion and piano - 4 pieces based on East Canadian folksongs
Joseph Petric (accordion), Guy Few (piano)
5:02 AM
Haydn, (Johann) Michael (1737-1806)
Cantata: Lauft, ihr Hirten allzugleich
Salzburger Hofmusik
5:11 AM
Mendelssohn, Felix (1809-1847)
Overture 'Ruy Blas' (Op.95)
Netherlands Radio Philharmonic, Hiroyuki Iwaki (conductor)
5:20 AM
Shostakovich, Dmitry [1906-1975]
Quartet for strings no. 1 (Op.49) in C major
Fine Arts Quartet
5:35 AM
Grieg, Edvard (1843-1907)
Holberg Suite (Op.40)
Sofia Soloists, Plamen Djourov (conductor)
5:55 AM
Lotti, Antonio (1666-1740)
Sonata in F major 'Echo-Sonate' for 2 oboes, bassoon and continuo
Ensemble Zefiro
6:05 AM
Bortnyansky, Dmitry [1751-1825]
Choral Concerto No.28 "Blessed is the Man"
Tasia Buchna (soprano), Valentina Slezniova (contralto), Vasyl Kovalenko (tenor), Fedir Brauner (tenor), Evgen Zubko (bass), Platon Maiborada Academic Choir, Viktor Skoromny (conductor)
6:13 AM
Brahms, Johannes (1833-1897)
Variations on a theme by Haydn (Op.56a) vers. for orchestra "St Antoni Chorale"
Oslo Philharmonic Orchestra, Marek Janowski (conductor).