Main content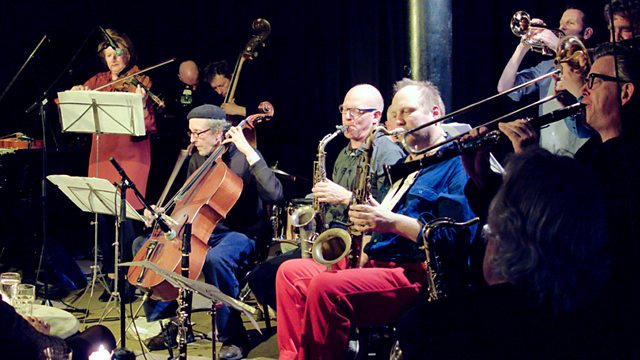 The ICP Orchestra
Jez Nelson presents music from improvising ensemble the Instant Composers Pool Orchestra, featuring co-founders Han Bennink and Misha Mengelberg.
Pianist Misha Mengelberg and drummer Han Bennink have been instantly composing together for half a century in the Instant Composers Pool Orchestra, one of the world's longest-running improvisation projects. The ten-piece ensemble that they co-founded draws on the jaunty swing of Blue Note-era musicians such as Herbie Nichols and Thelonious Monk within avant-garde parameters: the pieces often have no pre-ordained structure, and the players can inject 'viruses', or themes known by the group, at any point in proceedings. The music veers from the arthouse to the circus, with a sense of surprise never far away.
Presenter: Jez Nelson
Producers: Peggy Sutton & Chris Elcombe.
Music Played
BBC Introducing Track

Evan Parker and Han Bennink in conversation

The ICP Orchestra recorded at the Vortex, London on 2 February 2013

Untitled

Line up: Misha Mengelberg (piano); Ab Baars (clarinet/sax); Tobias Delius (clarinet/sax); Michael Moore (clarinet/sax); Wolter Wierbos (trombone)

Untitled

Thomas Heberer (trumpet); Mary Oliver (violin); Tristan Honsinger (cello); Ernst Glerum (bass); Han Bennink (drums)

Steve Beresford Interview

The ICP Orchestra recorded at the Vortex, London on 2 February 2013

Untitled

Line up: Steve Beresford joins on piano, in place of Misha Mengelberg

Misha Mengelberg at The Vortex

Photo: Andy Newcombe