Main content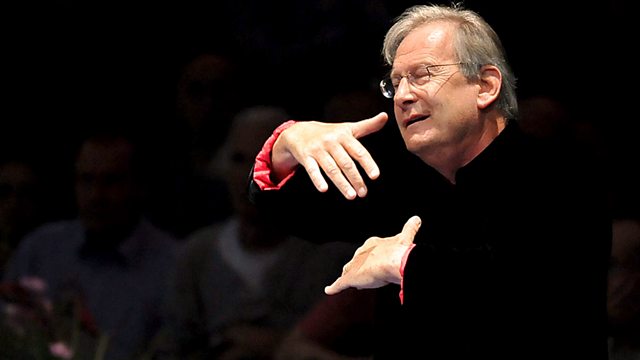 Conductor John Eliot Gardiner is joined by leading soloists, the Monteverdi Choir and the English Baroque Soloists in a celebration of the music of Bach.
The Baroque Spring Season concludes with an afternoon and evening of music by J S Bach live from Sir John Eliot Gardiner's Bach Marathon at the Royal Albert Hall in London. John Eliot celebrates his 70th birthday this month and over nine hours he conducts his own Monteverdi Choir and English Baroque Soloists and introduces leading performers in Bach chamber and solo works. Threaded through the day are interviews and round-table discussions with specialists, including American writer Paul Elie, neuroscientist Raymond Tallis, and psychologist Tamar Pincus.
Presented by Catherine Bott and Tom Service.
John Eliot recalls that he grew up literally "under the Cantor's gaze", since the most important portrait of Bach (by EG Haussmann, 1748) hung in his parents' house during his childhood, having been entrusted to them for safekeeping by a refugee fleeing from Nazi Germany during the Second World War. His fascination with the music of the great composer dates from those years when he learnt by heart the treble parts of all Bach's motets, and then went on to conduct them for the first time in his teens. It has developed throughout his life, often marking milestones in his career, most notably when he celebrated the new Millennium with the epic Bach Cantata Pilgrimage.
1.00: Motet: Singet dem Herrn ein neues Lied (BWV 225)
Monteverdi Choir
Musicians from the English Baroque Soloists
Sir John Eliot Gardiner (conductor)
To open this special Easter celebration, Bach's joyous, dance-infused double-choir Motet.
1.20: John Eliot introduces the day from the stage of the Royal Albert Hall.
1.45: Cello Suite No 6 (BWV 1012)
Alban Gerhardt (cello)
Alban Gerhardt plays one of the best-known compositions ever written for cello.
2.10: Bach Heroes I: John Eliot introduces a favourite performance of Bach
2.30: The Goldberg Variations (BWV 988)
Joanna MacGregor (piano)
Innovative musician Joanna MacGregor interprets one of Bach's most brilliantly deep keyboard works.
3.45: John Eliot revisits his recording of Bach's Brandenburg Concertos
4.10: The distinguished organist and scholar, Stephen Farr surveys some of the organs of Bach's own time in search of the elusive 'Bach Organ.' Can this be found in the imposing instruments of North Germany, once the pride of the cities of the Hanseatic League, or maybe in the more modestly scaled instruments of Thuringia's parish churches.
4.40: Christ lag in Todesbanden (BWV 4), Cantata for Easter Day
Monteverdi Choir
English Baroque Soloists
Sir John Eliot Gardiner, conductor
joined by the audience in the final Chorale
John Eliot leads the Monteverdi Choir, the English Baroque Soloists and the Royal Albert Hall audience in this early cantata which is remarkable for its extreme emotional intensity.
5.05: Bach Heroes II: John Eliot introduces a favourite performance of Bach
5.25: Partita No 2 in D minor (BWV 1004)
Viktoria Mullova, violin
Known the world over as a violinist of exceptional versatility, Viktoria Mullova takes on Bach's Partita including the Chaconne - a high-wire balancing act of musicality and technique.
6.15: Organ Recital: John Butt, organ
Fantasia and Fugue in G minor (BWV 542)
OrgelbÃ1/4chlein - chorale preludes for Passiontide and Easter:
Christus, der uns selig mach (BWV 620)
O Mensch, bewein dein SÃ1/4nde gross (BWV 622)
Christ lag in Todesbanden (BWV 625)
Jesus Christus, unser Heiland (BWV 626)
Heut triumphieret Gottes Sohn (BWV 630)
Sonata 5 in C for two keyboards and pedals (BWV 529)
Prelude and Fugue in Eb 'St Anne' (BWV 552)
Organist and Bach specialist John Butt displays the grandeur and versatility of the Royal Albert Hall's mighty instrument.
7.15: Bach Heroes III: John Eliot introduces a favourite performance of Bach
7.35: Discovering Music: Stephen Johnson explores Bach's B Minor Mass. [See separate billing]
8.00: Mass in B Minor (BWV 232)
Monteverdi Choir
English Baroque Soloists
Sir John Eliot Gardiner (conductor)
John Eliot conducts one of musical history's towering masterworks.
Sir John Eliot Gardiner reflects, "Several of the big moments in my life seem to be linked in some way with the music of Bach, and 2013 is no exception. The enormous appeal of his music today extends to an astonishing variety of people from all walks of life. To spend a whole day in the company of distinguished fellow musicians, writers and scientists to perform, discuss and enjoy the music of this supreme composer whose music lights our lives more than 300 years after his death, is absolutely the best birthday present I could wish for.".
Last on
Music Played
Pyotr Ilyich Tchaikovsky

Valse-scherzo (Op.34) in C major arr. for violin and piano ...

Tchaikovsky: Favourite pieces for violin and piano.
Apex.
Broadcast