Main content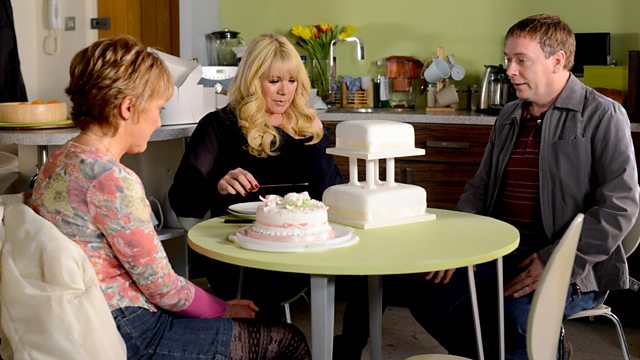 29/03/2013
Bianca is at her wits' end when she loses Liam again. Desperately worried for his safety, she rushes to find him, but her worst fears are soon confirmed.
Liam's interviewed by DS Bain and DC Booth; Bianca protests that he was acting under duress. At Liam's request Bianca's asked to leave. Bain tells Liam he's really after Kane and can help Liam but Liam's adamant he's not a snitch. The whole gang's bailed without charge, pending further enquiry. To Bianca's dismay, Liam heads straight off to find Kane. Bianca and Carol follow him. The gang congregate in a deserted playground. Liam insists he didn't tell the police anything but as Carol and Bianca approach, Chris, following Kane's instructions, stabs Liam and the gang flee. Liam's rushed to hospital and as he's wheeled away to theatre tells Bianca it's all her fault. Ava comes to the hospital; Bianca's worried sick but Liam's surgery's successful. Bain gives Bianca his card and Bianca hands it to Liam; she's done protecting him - he started this, he has to end it. Bianca holds it together until she's out of Liam's room then breaks down in Carol's arms.
A note's pushed through Ava's door 'RIP Teach'; Ava claims she's not worried but is easily spooked by some harmless teenagers. Billy takes Ava to the café. When Ava returns home to find her whole house has been trashed, she finally gives in and agrees with Dexter that they should leave.
When Sharon changes the time of the cake tasting, Ian and Jean scramble to finish their creations. Jean grabs the last box of Minute Mart icing sugar but, employing emotional blackmail, Ian persuades her to hand it over. Jean deliberately makes her icing too thick so Ian gets the job. Feeling guilty, Ian suggests that with Jean's help he could do the whole wedding buffet. Only then does Ian remember he's stood up Denise. Unimpressed, Denise rubs cake in Ian's face but he eventually talks her round.
Music Played
Timings (where shown) are from the start of the programme in hours and minutes
Credits
| Role | Contributor |
| --- | --- |
| Liam Butcher | James Forde |
| Bianca Butcher | Patsy Palmer |
| Carol Jackson | Lindsey Coulson |
| Ava Hartman | Clare Perkins |
| Dexter Hartman | Khali Best |
| Ali | Leanne Dunstan |
| Ian Beale | Adam Woodyatt |
| Denise Fox | Diane Parish |
| Kim Fox | Tameka Empson |
| Jean Slater | Gillian Wright |
| Sharon Rickman | Letitia Dean |
| Billy Mitchell | Perry Fenwick |
| Alfie Moon | Shane Richie |
| Tiffany Butcher | Maisie Smith |
| DS Bain | Joe Tucker |
| Executive Producer | Lorraine Newman |
| Director | Rebecca Gatward |
| Writer | Steph Lloyd Jones |