Main content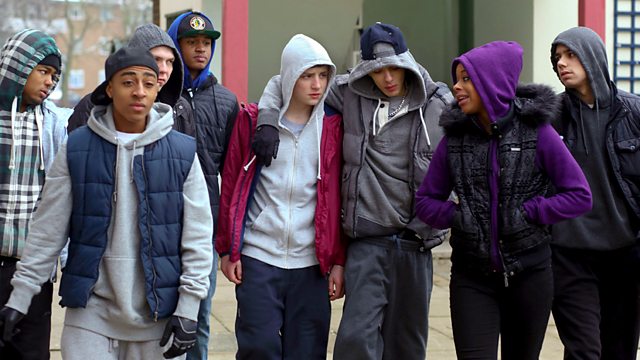 26/03/2013
Liam finds himself in an uncomfortable position when the gang want him to prove himself to them, but will he go through with it? Sharon tries to make a truce with Tanya.
Liam's made to prove himself to the gang. Asked to choose between walking along a high concrete ledge or smashing a car window, he opts to do both. Bianca talks to the police but isn't honest about what Liam's involved in so there's nothing they can do. Bianca and Whitney are annoyed to learn Carol was planning to talk to the police herself. Carol's dismissive when Steve Lowe visits, insisting she'll call him. Masood offers to bring leftover curry over to Carol later. The gang make Liam shoplift alcohol. Ava agrees to help Bianca search for Liam but is frustrated when Bianca kicks off at someone who could have helped them. Ava suggests if the police knew what was really going on with Liam they'd take it seriously and he'd be safe. Back on the Square, Kane demands Liam steal either a phone or money from Shirley. Liam heads into McKlunky's, hood up, but Shirley recognises him. A knife falls from his pocket. Realising Liam's scared of the gang, Shirley gives him £10. With the gang's encouragement, Kane tells Liam he's in. Shirley shows Bianca the knife; Bianca returns to the police station and admits to DC Booth that Liam was involved in the robbery on the Square.
Sheila Morris arrives to collect her husband's luggage. Fatboy's still temped to keep the watch but eventually replaces it in the case. Poppy gives Sheila the letter she found. Opening it, Sheila discovers her husband was planning to divorce her. Fatboy's exasperated when Poppy wonders if they should have just kept the luggage.
After Sharon compliments Jean's cupcakes, Jean considers offering to make her wedding cake and asks Ian's advice. But by the time Jean gets to Sharon Ian's pitched for the job himself.
Sharon reassures Tanya that she wants Jack not Phil.
Clips

Music Played
Timings (where shown) are from the start of the programme in hours and minutes
Credits
| Role | Contributor |
| --- | --- |
| Bianca Butcher | Patsy Palmer |
| Liam Butcher | James Forde |
| Ali | Leanne Dunstan |
| Shirley Carter | Linda Henry |
| Ava Hartman | Clare Perkins |
| Whitney Dean | Shona McGarty |
| Carol Jackson | Lindsey Coulson |
| Arthur 'Fatboy' Chubb | Ricky Norwood |
| Poppy Meadow | Rachel Bright |
| Dot Branning | June Brown |
| Alfie Moon | Shane Richie |
| Jean Slater | Gillian Wright |
| Sharon Rickman | Letitia Dean |
| Ian Beale | Adam Woodyatt |
| Tanya Cross | Jo Joyner |
| Masood Ahmed | Nitin Ganatra |
| Steve Lowe | Michael Simkins |
| Executive Producer | Lorraine Newman |
| Director | Rebecca Gatward |
| Writer | Rob Gittins |