Main content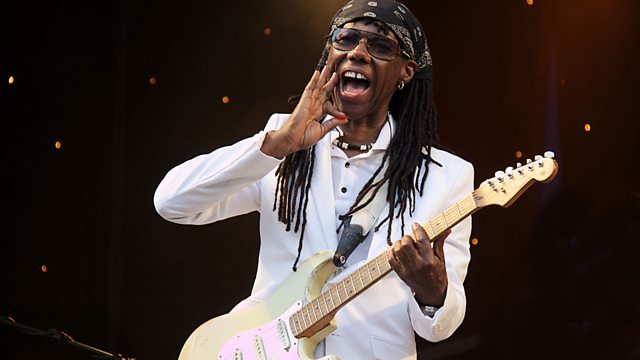 Nile Rodgers: The Hitmaker Remastered
Updated documentary about Nile Rodgers. With Chic, he was one of disco's most successful artists. As a producer, he then went on to help create some of the biggest hits of the 80s.
The last two years have seen Nile Rodgers launched back into the limelight following the massive success of Daft Punk's single Get Lucky, his distinctive guitar work helping the French dance music duo to one of their biggest hits.
This 2013 documentary has been brought up to date to tell the story of his work with Daft Punk and how his band Chic has been introduced to a brand new audience.
As the co-founder, songwriter, producer and guitarist of Chic he helped define the sound of the 70s, as disco took the world by storm. But the music that had made Chic would also break them, thanks to the 'Disco Sucks' backlash. What could have been the end for Nile Rodgers would actually be a new beginning as a producer, helping create some of the biggest hits of the '80s for the likes of Diana Ross, David Bowie, Madonna and Duran Duran.
The ever-charismatic Rogers contributes an engaging and often frank interview to tell the tale of how, born to beatnik, heroin-addict parents in New York, he picked up a guitar as a teenager and embarked on a journey to learn his craft as a musician, before becoming one of disco's most successful artists.
In the '70s and '80s he lived the party lifestyle thanks to his success with Chic and as one of the music industry's hottest producers. Drugs and alcohol would become part of everyday life for Nile, contributing in part to the break-up of Chic in the early '80s. The band would reform in the mid '90s, but their return was quickly marked by tragedy with the death of Nile's long-time friend and musical partner Bernard Edwards in 1996.
The film recounts a captivating and moving story of a man who has been making hit music for nearly four decades and has found himself back in the limelight once again.
Credits
| Role | Contributor |
| --- | --- |
| Narrator | Nina Sosanya |
| Director | Martyn Stevens |
| Producer | Martyn Stevens |
| Executive Producer | Paul Bullock |
| Interviewed Guest | Nile Rodgers |
Nile Rodgers: The Hitmaker - BBC Music playlist