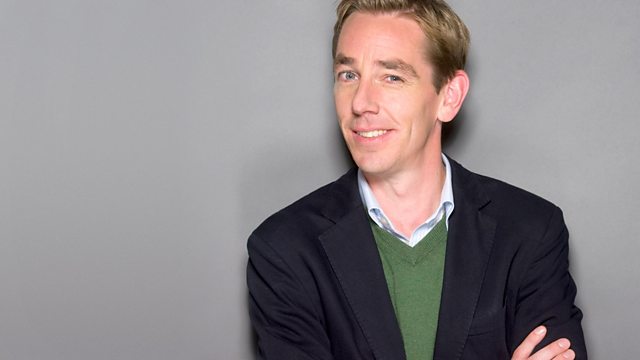 Ryan Tubridy sits in
Its Foodie Thursday and Ryan Tubridy welcomes chef Catherine Fulvio into the studio with a dish to tempt you into the kitchen!
Caroline has the sports news, Pauline is on the money and Bobbie brings you regular travel updates.
Last on
Catherine Fulvio's Recipe
Rhubarb, Thyme and Almond Crumble Jars<?xml:namespace prefix = o ns = "urn:schemas-microsoft-com:office:office" />
Serves  6 to 8 jars depending on the size
A good size jar to use is 125ml. I like to roast my rhubarb as the beautiful flavours are retained and there is less liquid when baking the crumble.         
For the filling
800g rhubarb, trimmed and sliced into 3cm pieces
3 plums, pitted and sliced into thin wedges
200g sugar
1 tbsp butter
2 sprigs of thyme
For the crumble
65g plain flour
65g wholemeal flour
90g butter
65g brown sugar
65g oatmeal
½ tsp chopped thyme
3 tbsp flaked almonds
Natural yoghurt or ginger ice cream, to serve
1.      Preheat the oven to 180°C/fan 160°C/gas4. Place the diced rhubarb and plums into a large roasting pan.  Sprinkle over the sugar and butter.  Add the sprigs of thyme.  Toss and place in the oven to cook for about 12 to 15 minutes, carefully stirring from time to time. 
2.      In the meantime, to make the crumble topping, place the plain flour and wholemeal flour in the bowl.   Rub in the butter until it resembles breadcrumbs. Stir in the sugar, oatmeal, thyme and almonds.
3.      Remove the thyme from the roasted fruit. Spoon the fruit into buttered ovenproof jars (or an ovenproof dish), sprinkle over the crumble topping over the fruit, place on a baking tray and bake for about 15minutes until just golden brown.  It will take longer to bake in one dish. Serve warm with natural yoghurt or scoops of ginger ice cream.  
Tip:  Add 3 tbsp elderflower syrup to the cooked rhubarb instead of the plums is a delicious change.