Main content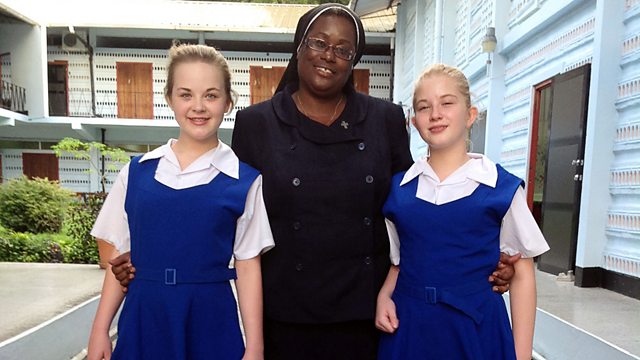 Children from the UK attend a strict school for a week. Two Year 9 girls from Newcastle sign up for a stint at St Joseph's Convent in St Lucia.
Two Year 9 girls from Newcastle with a bad attitude to education sign up for a stint at St Joseph's Convent in St Lucia to see if they can change their ways.
The girls' total lack of interest in school shocks the tough-talking principal Sister Rufina and they soon realise that they may have finally met their match. Facing strict uniform rules and a ban on make-up, they realise that life at the convent is very different to school in Newcastle. The girls struggle to see the point of learning good manners and etiquette, which is a must for every convent girl. But they do take on the convent school's community spirit, helping out at an underprivileged school and an afternoon at the preschool, where the children are a law unto themselves. Will it give the girls a taste of their own medicine?
Despite being bright, the girls have ambitions to work in a factory so they can muck about with their mates. Will work experience at a banana plantation give them a wake-up call? Their final challenge is to perform with a group of kids from the underprivileged school, at a charity concert in front of an audience of over 700 people, but will they win over the guest of honour, her excellency the governor general of St Lucia, and do enough to graduate from Extreme School?