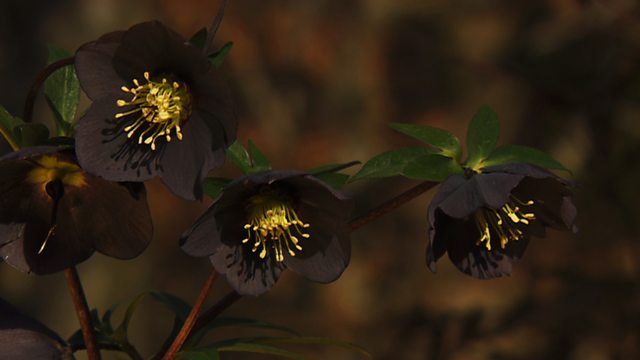 This week on Gardeners' World, Monty Don shows us how to prepare for spring and summer with timely tasks in his damp garden and soft fruit area.
Joe Swift continues his series of master classes on planting design to help us achieve the garden of our dreams. This week he is sharing tips on how to create a tropical green oasis.
Carol Klein is in her Devon garden planting a viburnum that will give spring colour and fill the garden with fragrance. By considering its natural, native habitat, Carol shows how to plant it in the perfect place.
We visit a couple that moved to a cottage in Cornwall and used their mastery of flower and foliage colour to turn a thin stretch of land into a beautiful garden.
Back at Longmeadow Monty has advice on the best type of mulch to use for different planting conditions and he gets to grips with pruning his gooseberry and currant bushes.
Last on
Mulching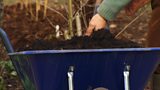 Mulching involves covering bare soil between plants in order to conserve moisture, by stopping evaporation in sunny weather, and reduce weed growth by smothering weed seeds. Organic mulches such as garden compost and well-rotted manure also improve the structure and fertility of the soil as they break down and become incorporated with it. 
Monty advises applying mulch thickly; a layer at least 10cm deep is needed to be effective. Try to avoid burying emerging plants or piling compost up against the stems of woody plants. Monty mulched when his soil was moist and not frozen and that's ideal for best results.
A wide range of materials are suitable for mulching including garden compost, council green waste, well-rotted manure, mushroom compost and used potting compost. For acid-loving plants such as camellias, it is a good idea to look for composted pine needles, composted bark, leaf mould or bracken, in order to prevent the soil pH from increasing. There are organisations around the country that collect and compost bracken for garden use and many can be found online.
Find out more about mulches and mulching (rhs.org.uk)
Featured garden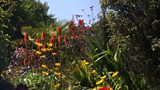 Poppy Cottage
Ruan High Lanes
Truro
Cornwall
TR2 5JR
Poppy Cottage Garden is full of plants that provide great leaf and flower colour. Here is a list of the ones that Tina and Dave Primmer mention by name:
Ageratina altissima 'Chocolate' (syn. Eupatorium rugosum 'Chocolate') - Herbaceous perennial with dark foliage
Dahlias:
'Fascination' – black leaves and bright pink flowers
'Helga' – red cactus type flowers
'Bishop of York' – single golden flowers
'Bishop of Llandaff' – semi-double deep red blooms
Eryngium giganteum (Sea holly) - Herbaceous perennial with spiky silver foliage
Hakonechloa macra 'Aureola' (Golden hakonechloa) - Variegated gold and green grass with pinkish tints
Lobelia x speciosa 'Tania' (bright pink) and 'Hadspen Purple' (deep purple) - Herbaceous perennials with tall spikes of flowers
 Ricinus communis (Castor oil plant) - Tender shrub with architectural leaves, grown as an annual in the UK
Sambucus nigra f. porphyrophylla 'Black Lace' (Black leafed elder) - Shrub with finely cut, dark foliage
Sedum telephium Atropurpureum Group - Perennial with deep purple, succulent leaves and pink flowers heads
The garden is open in the afternoon from Sunday to Thursday between March and September. For more details, please check their website.
Poppy Cottage (www.poppycottagegarden.co.uk)
Joe's tropical plants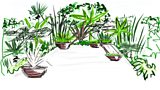 A tropical garden is a tranquil oasis reminiscent of warmer climes. It is particularly well-suited to courtyards and sheltered sites. Joe's exotic design uses these bold, architectural plants 
Shrubs:
Cordyline australis (Cabbage palm)
Cotinus coggygria (Smoke bush)
Dicksonia (Tree fern)
Fatsia japonica
Musa basjoo (Hardy banana)
Phormium tenax (New Zealand flax)
Phyllostachys (Bamboo)
Climbers:
Hedera helix (Ivy)
Parthenocissus quinquefolia (Virginia creeper)
Trachelospermum jasminoides
Ground cover:
Asarum europaeum (Wild ginger)
Bergenia (Elephant's ears)
Heuchera
Pots:
Echeveria
Sempervivum (Houseleek)
Jobs for the weekend: Pot on fuchsias
Fuchsias, like other tender plants such as salvias and Brugmansia, can be potted on now to give their roots more space in which to develop. Choose a pot about one third bigger than the existing one and partly fill it with fresh compost. Carefully tip the plant out of its existing pot and tease out the roots if they are over crowded. Place in the new pot, surrounded with compost, and water well to settle the soil. You can also prune back these plants now to keep them compact and stimulate fresh growth.
More information about fuchsias (rhs.org.uk)
Jobs for the weekend: Divide hostas
Hostas are best divided as their buds start to appear above ground but before their leaves unfurl. Lift the entire plants out of the soil and chop the rootball into sections using a sharp spade, ensuring each part has at least one bud. Replant as many sections as you need, spaced about 45cm apart. Firm in and water well. 
More information about hostas (rhs.org.uk)
Jobs for the weekend: Prick out seedlings
Move seedlings out of their seed trays as soon as they develop true leaves. Holding them by their leaves, gently ease seedlings out of their compost and pot them on into small pots where they will have space for their roots to develop. Put in a greenhouse, cold frame or windowsill to grow into strong plantlets that can be hardened off and then planted outside.
Credits
| Role | Contributor |
| --- | --- |
| Presenter | Monty Don |
| Presenter | Carol Klein |
| Presenter | Joe Swift |
| Series Editor | Liz Rumbold |
| Producer | Babs Lewis |