Main content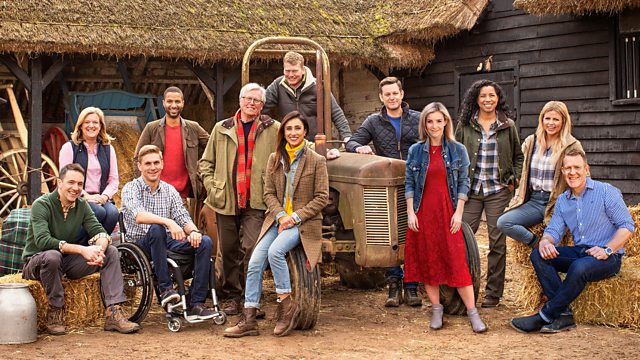 Lyme Bay
Countryfile is in Lyme Bay where the rugged west Dorset and east Devon coastlines meet. Julia Bradbury is exploring its rich geological history, and Matt visits Beer Caves.
Countryfile is in Lyme Bay, where the rugged west Dorset and east Devon coastlines meet. Julia Bradbury is exploring its rich geological history, which has made this place a fossil hunter's paradise.
Matt Baker learns there are other treasures to be hand on the coast; inside Beer Caves some of our rarest bats are roosting. The network of caverns provide the perfect habitat for no less than nine of the eighteen species of bat found in the UK. Matt finds out why conservationists are replicating this habitat in a new bat cave being built outside on a reserve.
Ellie Harrison is also on the hunt for rare species too; a South Devon cow, known locally as the 'orange elephant', that was once a common feature in the Devonian countryside. Ellie meets a farmer on a mission to bring back the orange elephant as a milking cow.
Elsewhere, Tom is investigating the impact one of the wettest years on record has had on farmers and wildlife. And lambing is in full swing on Adam's farm, but some of his ewes need a bit of helping hand.
Matt builds a bat cave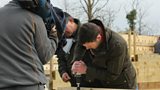 Matt Baker joins guide John Scott to explore the vast quarry tunnel system under the coastal village of Beer. He finds out what life would have been like for workers cutting stone in Beer Quarry Caves 100 years ago. Then he meets some of the caves' current residents – hundreds of Horseshoe Bats – huddled together as they hibernate in the damp and dark spaces left empty when the quarry closed down. A few miles away in Axemouth estuary wetlands, volunteers are busy building an innovative new roost for bats and sand martins. Matt heads over to lend them a hand.
Julia bags a duck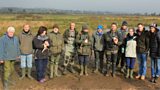 At first light, Julia joins local bird ringing expert, Mike Tyler, and his group of volunteers at Axe Estuary Wetlands as they try to catch and ring some of the local Shelduck population. Mike fires a net out of a canon to trap the ducks. Then Julia helps the volunteers to bag up the ducks to keep them calm and safe, ready to be measured and ringed. Julia finds out how ringing these colourful estuarine birds helps to monitor their behaviour and population numbers.
Ellie and the 'orange elephants'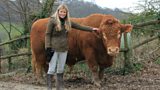 Ellie Harrison seeks out the UK's largest native breed of cattle – the South Devon cow. They are known locally as 'orange elephants' because of their size and colour. She meets South Devon breeder, Jerry Horsman, to find out how the breed was developed from 'mongrel' to pedigree beef herd. Ellie goes on to meet Rob Taverner, who has decided to revive the South Devon's old milking traits. He explains how he used 46 year old South Devon bull semen to create a new dairy herd. Then, local historian Tony Beard teaches Ellie how to make Devon clotted cream the traditional way, using milk fresh from Rob's herd.
Learn about the South Devon cattle breed
Tom investigates inland flooding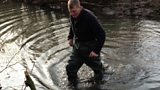 Last year's extreme wet weather had disastrous consequences for some rural areas.  Rivers supercharged with water became too full and burst their banks. Money has since been allocated to build new flood defences in urban, and some rural, areas but at the same time the budget for maintaining rivers in the countryside has been slashed. Tom Heap is on a rather soggy investigation to find out if safeguarding people and property comes at the expense of the countryside. 
Chicks, lambs and Adam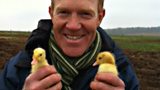 It's the height of the lambing season and this week on his farm some of Adam's ewes are having difficulty giving birth. Adam Henson steps in and gives them a little help with the delivery of their lambs. Once that's sorted, Adam travels to another farm see how ducks are reared for eating. He also finds out why duck isn't a more common sight on our menus and dinner plates.
Julia explores 'fossil town'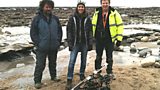 Julia Bradbury is in Lyme Regis searching for fossils on the Jurassic Coast. She meets geologist Paddy Howe on Charmouth beach. He helps her to find a fossilised ammonite - an ancient shellfish which he takes back to his workshop to polish for her. Julia then steps back in time to rediscover Lyme Regis's most important palaeontologist, Mary Anning. She talks to Cardiff Museum's Tom Sharpe about Mary's difficulty achieving recognition in the 19th Century for her fossil finds, which were often new to science. Then Julia heads over to Monmouth beach to survey fossil erosion on the Jurassic Coast using a mini helicopter.
Credits
| Role | Contributor |
| --- | --- |
| Presenter | Matt Baker |
| Presenter | Julia Bradbury |
| Presenter | Ellie Harrison |
| Presenter | Tom Heap |
| Presenter | Adam Henson |
| Series Producer | Teresa Bogan |