Anne Tyler in conversation with Mark Lawson
A rare interview with writer Anne Tyler, who talks to Mark Lawson in her home in Baltimore. She reflects on her approach to writing novels, including Dinner at the Homesick Restaurant, Digging to America and The Accidental Tourist. She discusses her interests and influences, and her 20th novel, which she's currently writing.
Producer Penny Murphy.
Last on
Anne Tyler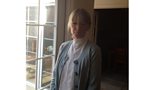 Anne Tyler in her home in Baltimore.
Featured in...
Magazine programme on the worlds of arts, literature, film, media and music.