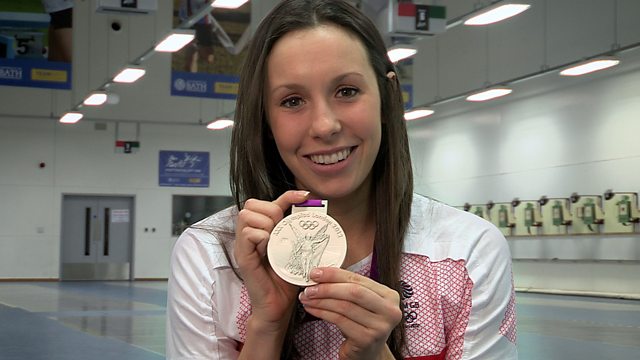 Olympic Spark: Fire Up Your Future
Series of seven short films, featuring inspirational British medal-winning Olympians talking about their lives and careers - and sharing key messages with children and young people.
By encouraging the next generation to think differently about what they are capable of, these great athletes hope children of all kinds will seek to recognise and harness their own unique talents and map out a satisfying future for themselves - whatever their passions might be.
Carl Hester lived on the island of Sark. But riding donkeys, attending a school of only 22 children and being separated from the horse-riding elite by the sea did not stop him winning dressage gold in 2012.
Judo champ Gemma Gibbons was introduced to the sport at a young age by her mum to burn off excess energy. Obsessed by judoka Kate Howey, Gemma was so excited to finally meet her. When her mum died Gemma was just 17. Howey became her mentor and, motivated by her mother's memory, Gemma made it all the way to a bronze medal.
Etienne Stott was scared of water, so it took great courage to get into a canoe that first time. Once aboard, his scout leader told him he was a natural and joked that he must have Canadian blood. Stott surprised him by actually being half Canadian, and the young boy took that as a sign. He was off and paddling.
At just 22, Samantha Murray is already a silver medal-winning pentathlete. She ran, swam, rode, shot and cycled her way to 2012 glory by sheer will, determination and hard training. Growing up on a remote Lancashire farm, she credits strong role models - her mum and grandma - as the driving force behind her success.
These emotional and affecting personal messages are designed to encourage children to think differently about themselves and their own futures.
Olympic Spark: Fire Up Your Future on BBC iPlayer
This programme is only on BBC iPlayer for 7 days after broadcast, and cannot be downloaded, only streamed. We always aim to offer our programmes to stream and download for 30 days; however for legal or rights reasons this isn't always possible.
Featured in...
KS2. Engaging short films exploring PSHE topics specially made for 7-11 year-olds.