Main content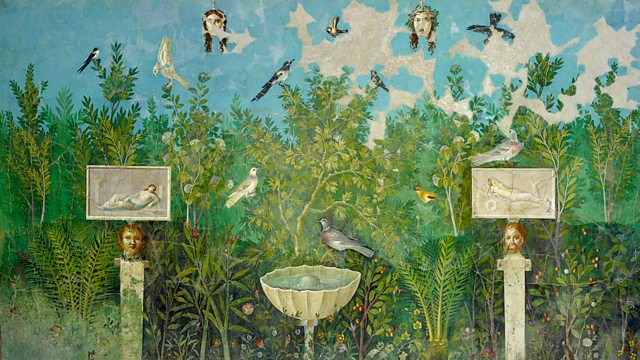 James Wood, Michael Grigsby, Pompeii and Herculaneum, In the House
Presented by Matthew Sweet. With literary critic James Wood, an exhibition on Pompeii and Herculaneum, celebrating film-maker Michael Grigsby, and the film In the House.
On Night Waves tonight, Matthew Sweet talks to the literary critic, novelist and essayist James Wood, who discusses cherishing the ability to be honest in literary reviews and the connection between a certain kind of sentence structure and Keith Moon's drumming.
In 79 AD, the Roman cities of Pompeii and Herculaneum were buried in ash following a cataclysmic eruption of the volcano Vesuvius, killing thousands but keeping the towns in a nearly perfect state of preservation. Now the British Museum is holding one of the most comprehensive exhibitions of finds from Pompeii and Herculaneum ever staged. Matthew visited the Museum with Classicist Margaret Mountford and curator Paul Roberts to see what insights he could gain into urban life in the Roman world.
Michael Grigsby began directing films as a schoolboy in the 1950s. He went on to make series of films documenting working life, the impacts of the Vietnam War, and life on the economic edges of Thatcher's Britain, amongst many other things. Uncompromising in his insistence on giving his subjects the time and space to tell their stories, our own Matthew Sweet has written about Grigsby's "passionate commitment to the poetry of everyday life". Grigsby died suddenly earlier this month, just as his latest film 'We Were Soldiers' was released. Matthew is joined by Grigsby's producer and collaborator Rebekah Tolley and the critic Ian Christie.
And, Is it a middle class satire, a coming of age tale or a post-modern deconstruction of the act of writing and film making? Film critic Ginette Vincendeau reviews the latest offering by one of France's most prolific film directors Francois Ozon, In the House, with Kristin Scott Thomas.
Producer: Luke Mulhall.
Chapters
James Wood

Matthew Sweet talks to literary critic, novelist and essayist James Wood.

Duration: 13:32

Pompeii and Herculaneum exhibition at the British Museum

Matthew visits the exhibition with Classicist Margaret Mountford and curator Paul Roberts.

Duration: 09:21

Michael Grigsby

Grigsby's producer Rebekah Tolley and Ian Christie remember the talented documentary maker

Duration: 14:28

In the House

Film critic Ginette Vincendeau reviews the latest film from Francois Ozon, 'In the House'.

Duration: 05:58

James Wood

James Wood's new book 'The Fun Stuff: And Other Essays' is out now published by Farrar, Straus and Giroux.

 

Credit: Miriam Berkely

Pompeii and Herculaneum

The British Museum is holding one of the most comprehensive exhibitions of finds from Pompeii and Herculaneum ever staged, running from March 28th - September 29th.

Michael Grigsby: Shooting on the edge

With an uncompromising vision, Michael Grigsby has made some of Britain's bleakest but best documentaries. Yet, now, no one will employ him. Matthew Sweet finds out what went wrong

 

In the long, sterile, self-hating discourse that is British film criticism, one form of native cinema has always remained above contempt: the documentary. Standard histories may dismiss British fiction film-making as West End theatre photographed for middle-class housewives at the Uxbridge Odeon, or the music hall bill transferred to celluloid for the entertainment of end-of-the-pier crowd, but the factual film has remained a shibboleth of intellectual and aesthetic respectability. Its high reputation was sealed with a cheat - some of the men who wrote the history of British cinema also made some of these pictures - but it's difficult to quibble with the power and acuity of films such as Night Mail (1936), Fires Were Started (1943), We Are the Lambeth Boys (1959) and A Life Apart (1973). 



A serendipitous bit of alliteration marks the boundaries of the documentary canon: Grierson to Grigsby. John Grierson is customarily given the credit for inaugurating the form with Drifters (1929), a Modernist hymn to the size and efficiency of the British herring fleet. Most of the great non- fiction classics of the 1930s and 1940s bear his name somewhere on the credits: Night Mail, Harry Watt and Basil Wright's rhythmic journey northward with letters, parcels and WH Auden's clacketty-clack poetry; Coal Face (1935), Albert Cavalcanti's dramatic descent into the Welsh mines; Diary for Timothy (1946), Humphrey Jennings' post-war farewell to all that, charged with Michael Redgrave's wistful narration. At the end of the line - with Lindsay Anderson's O Dreamland (1956) and Karel Reisz's We Are the Lambeth Boys (1958) noted on the way - is the work of Michael Grigsby: state-of-the-nation films which put ordinary men and women at the centre of their stories. And from Grigsby back to Grierson runs an unbroken tradition in British documentary-making: a passionate commitment to the poetry of everyday life.

 

"To be a documentary film-maker," says Grigsby, pondering his past and his future over a slice of banana cake in the basement cafe of a London bookshop, "you have to be a dreamer and a realist. Grierson had to battle the government to get money for his crazy experimental unit. The group of directors who were involved in Free Cinema had to battle commercial cinema and find a way to navigate through that. I've had to fight for almost every film I've made. So there is an arc there, back to 1929."

 

Grigsby's name is not as celebrated as his forbears, probably because most of his work was made for television, a medium which loves to rescreen its elderly sit-coms, but has never shown much interest in airing the contents of its factual back catalogue. His films, however, are landmarks. With its languorous shots of the American landscape, I Was a Soldier (1970), his portrait of three American boys returned from the darkness of Vietnam, is like a Terrence Malick picture in miniature. A Life Apart (1973), an unpatronising document of working-class life, gave voice to the hopes and fears of a group of Lancashire trawler men. Living on the Edge (1987) told the stories of three British families and the slow disappearance of their livelihoods and self-respect, and is the most lyrical and unemphatic denunciation of Thatcherism that you're likely to see. Lockerbie - A Night Remembered (1998) allows members of that decimated community to give their own accounts of the events of 21 December 1988, and in doing so, makes amends for all the hit-and-run TV journalism they suffered in the immediate aftermath of the disaster. A crying shame, then, that Grigsby now finds it almost impossible to find work in the medium to which he has contributed so much.

 

"Commissioning editors are really nervous if they don't know what your film is about in the first ten seconds," he explains, cheerfully. "And if you look at any of my films you'll see it takes time for characters and stories to evolve and make themselves clear. That's the way it works in feature films, so why not documentaries? What's happened in TV is that there are a lot of talented film-makers out there, but television is being run by people who don't understand film language: people who are frightened of it."

 

Grigsby's response to this situation has been novel. He has gone back to school - his old school in Abingdon, Oxfordshire, where he has established a documentary unit and is busy attempting to instil the values of the Grierson tradition in students who may one day grow up to be film-makers and TV commissioning editors.

 

Abingdon was the scene of Grigsby's cinematic education. His interest in documentary cinema was first stirred by his involvement with the film society, for which he booked documentary shorts to accompany the club's regular screenings of feature films - largely because they were supplied free of charge. He talked the headmaster into funding the production of his first film and developed such an enthusiasm for pictures that he turned down a place at university and accepted a post as a trainee assistant editor at Granada television, in the documentary unit run by Harry Watt, co-director of Night Mail.

 

On the day he arrived in Manchester, however, Grigsby learned that Watt had left the company, that the unit had been disbanded, and that he would now be trained up as a studio cameraman for shows such as What the Papers Say. Swallowing his pride, he accepted the job, took a room in a shabby- genteel hotel in Fallowfield - where he queued for the bathroom with Michael Frayn and Neal Ascherson - and saved up enough of his wages to buy himself a cheap cine camera. This secured, he and a bunch of disaffected technicians - under the name Unit Five Seven - began to spend their Saturdays working on Enginemen (1959), a short film about the men who staffed the locomotive sheds at Newton Heath railway depot. On the advice of a friend, Grigsby sent his rushes to Lindsay Anderson, then in the thick of the Free Cinema movement and working hard on radical, freewheeling films such as Every Day Except Christmas (1957) and O Dreamland (1956). "Anderson got this brown paper parcel and opened it up and all this tangle of film fell out on to his kitchen table," recalls Grigsby. "I didn't even know you had to spool it up."

 

And once Anderson had managed to roll the film back up and load it on to a projector, he was delighted by what he saw. He and Karel Reisz sent a congratulatory telegram to the Barcombe Hotel, Fallowfield, helped Grigsby secure a grant to complete the film from the BFI's Experimental Film Fund, and included the finished version of Enginemen in the last of their occasional showcases of Free Cinema films at the NFT. It played with Karel Reisz's We Are The Lambeth Boys. "I remember walking over Hungerford Bridge to the opening of that," remembers Grigsby "and looking down towards the NFT and seeing all these people around and thinking, Wow! Of course they hadn't come to see my film..."

 

His work since has shown remarkable fidelity to the principles embodied in Enginemen. He never uses voiceovers ("Why not just give people the space to be eloquent and tell their own stories?") He believes in the importance of research, and spends anything up to six months hanging out with his subjects before he switches on his camera. (It's cheaper this way, he argues, as he shoots little that he doesn't use.) He hates films that interview their subjects against a blank background. ("People can only be understood," he argues, "in their proper context.") He likes simple stories about unspectacular lives - and isn't overly encouraged by the recent incursion of the documentary feature into the multiplex. (Touching the Void, he suggests, was like an extended episode of Michael Buerk's 999.) He doesn't want to work for the digital channels because he believes in making films for a mass audience. ("BBC Four is elitist and ghettoised - it's the Tate Britain of television.") He mourns the lack of collective endeavour in the modern media. ("I managed to keep working for the broadcasters until 2002. But a lot of my peers just gave up. They either retired or became very disillusioned.")

 

There is, he argues, light at the end of this particular tunnel. "I get a few positive signals coming through that the climate is changing very slightly," he asserts. "There's been a bit of a backlash against makeover shows and docusoaps. I'm an eternal optimist. Things do swing back and forth, and with the right kind of people in place I'm sure that the kind of work I'm doing and others are doing will find a place again in the television schedules."

 

So viewers have a choice of factual programming tonight. On BBC1, another edition of Houses Behaving Badly. On BBC2, Diarmud Gavin considers Gertrude Jekyll's herbaceous borders. On Channel4, Ahmed and Marco snipe at each other in the Big Brother hot tub. Those fortunate enough to live within travelling distance of the South Bank Centre, however, can throw away their TV Quick and join Mike Grigsby at the NFT for an evening of classic documentaries. Everybody else, stay tuned. "I'm never going to give up," he breathes. "Everything's possible."

   

The Independent Tuesday 22 June 2004