Main content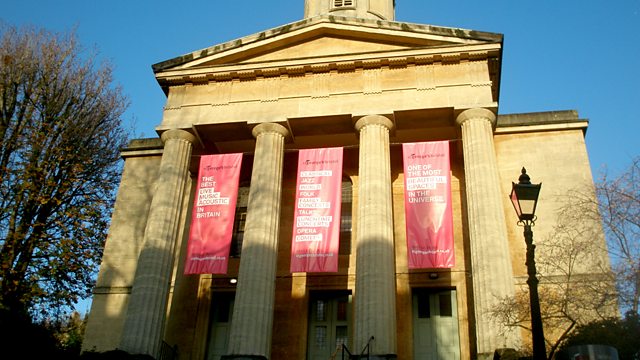 Concert dramatising the rivalry of two divas of Handel's London operas of the 1720s. With Handel's Admeto, Siroe and Riccardo Primo, plus Porpora's Polifemo and Hasse's Cleofilde.
Live from St George's, Bristol
Presented by Tom Service
As part of Baroque Spring on Radio 3 and the Bristol Baroque Festival, the Early Opera Company present: Handel and the Rival Queens.
Handel: Admeto, re di Tessaglia - Overture
Handel: Siroe, re di Persia - Aria 'Torrente cresciuto'
Handel: Riccardo primo, re d'Inghilterra - Aria 'Quell'innocente, afflitto core'
Nicola Porpora: Polifemo - Overture
Porpora: Arianna in Nasso - Recitative & Aria 'Misera! E che faro!... Miseri sventurati, poveri affetti miei'
Johann Adolf Hasse: Cleofide - Aria 'Son qual misera colomba'
Handel: Alessandro - Duet 'Placa l'alma, quieta il petto!
Early Opera Company
Eleanor Dennis & Mhairi Lawson, sopranos
Christopher Benjamin, actor
Christian Curnyn, conductor and harpsichord
Two feisty modern-day sopranos, aided by one of the rising-star conductors in the Baroque opera world, take on the roles of the great rival divas of Handel's London operas of the 1720s, Francesca Cuzzoni and Faustina Bordoni. So notorious was their competition that a play was written about them, and even Handel's best attempts to provide them with precisely equal parts could not prevent their animosity boiling over into a fight on stage! The concert includes overtures, arias and duets from Handel's Ottone, Flavio, Alessandro, Admeto, Riccardo Primo and Siroe, Hasse's Cleofide, Porpora's Polifemo and Gay's The Beggar's Opera, as well as readings from contemporary letters, newspapers and other literary sources.
More episodes
Next
You are at the last episode