Main content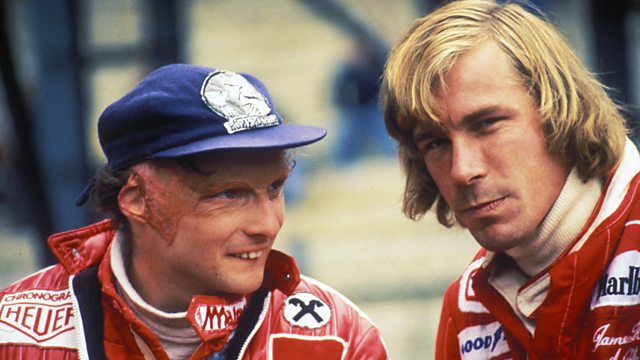 Hunt/Lauda
4 Extra Debut. Vicki Butler-Henderson tells how James Hunt took on Formula One world champion Niki Lauda, a man who by the August of 1976 would be fighting for his life. From 2013.
Racing driver Vicki Butler-Henderson recalls one of sport's most intense rivalries as swashbuckling British playboy James Hunt took on Formula One World Champion Niki Lauda, a man who by the August of 1976 would be fighting for his life in a German hospital.
Motorsport legends Murray Walker, journalist Nigel Roebuck and Niki Lauda himself tell how Hunt, in his British McLaren, chased the Austrian's scarlet Ferrari in a 200mph season-long duel from Brazil to Japan. It wasn't long before the handsome, blonde, badly behaved Hunt became Britain's number one sporting hero, filling the front and back pages of international newspapers in the scorching summer of '76 with his outrageous car control and equally outrageous personal life.
Thrilling archive and first hand testimonies from three-time world champion Lauda and famed Austrian commentator and author Heinz Pruller tell how, in the August of that year, Ferrari's golden boy crashed heavily at the notorious Nurburgring circuit in Germany. His car burst into flames, and left Lauda, stricken with terrible burns, to receive the Last Rites.
What followed remains one of sport's most heroic chapters as Lauda went from death's door to returning to the track, battle scarred and bleeding, taking the fight with Hunt to the final race of the year and setting up a gladiatorial showdown amid monsoon conditions at the Japanese Grand Prix.
Producer: James Roberts
First broadcast on BBC Radio 4 in 2013.
Last on
Broadcasts