Main content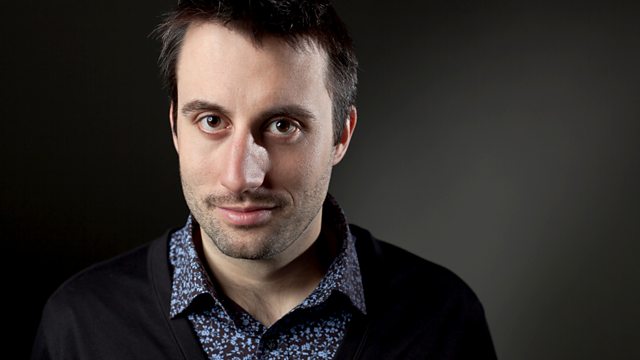 Baroque Spring: Alexander Hawkins Ensemble
As part of Radio 3's Baroque Spring season, Jez Nelson presents a new commission from pianist Alexander Hawkins and his improvising nonet, featuring American trumpeter Peter Evans.
Bringing Baroque and jazz music together can, when attempted too literally, be fraught with danger. But this new commission from pianist Alexander Hawkins - recorded exclusively for Jazz on 3 as part of BBC Radio 3's Baroque Spring - is more about exploring the parallels between the two genres, drawing inspiration from the 18th century in a looser, more abstract way. Hawkins has built a bespoke nonet of free-improvising musicians, writing the music with the individual players in mind. US trumpeter Peter Evans has an astounding technique that is regularly aired in both avant-garde and Baroque settings, and he's joined by an array of brass and reed instruments - including trumpeter Byron Wallen and tuba player Oren Marshall. The soundworld is enriched further by the cello of Hannah Marshall and the relentlessly inventive textures of Mark Sanders's drumkit.
Presenter: Jez Nelson
Producer: Peggy Sutton.
Music Played
Baroque Spring: Listener's Choice

Baroque Spring: Alexander Hawkins' Choice

Alexander Hawkins introduces his new commission for Baroque Spring

Alexander Hawkins Ensemble 'One Tree Found Suite' recorded at Livingston Studios, London on 27 February 2013

Untitled

Line-up: Alexander Hawkins (composer/conductor); Peter Evans (trumpet); Percy Pursglove (trumpet/double bass); Byron Wallen (trumpet/flute/euphonium);

Untitled

Pete McPhail (flute/alto flute/sopranino, alto, baritone saxophones); Chris Cundy (bass clarinet/contrabass clarinet); Oren Marshall (tuba);

Untitled

Hannah Marshall (cello); Mark Sanders (drums/percussion)

Marcin Masecki interview at his home in Warsaw, Poland on 4 March 2013

Marcin Masecki recorded at the Jazz on 3 Studios, London on 27 November 2012

Untitled

Line-up: Marcin Masecki (piano)