Main content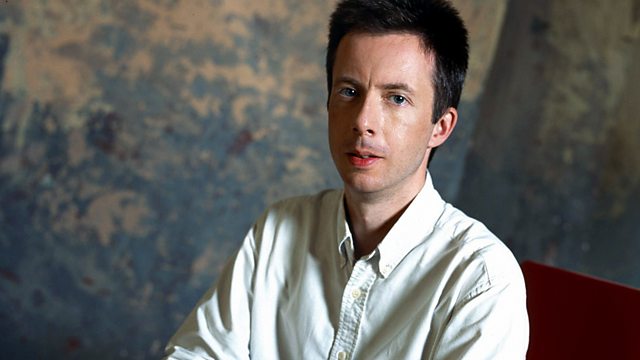 25/03/2013
John Shea's selection includes a recital from the Casals Quartet, who are joined by cellist Miklos Perenyi for a performance of Schubert's Quintet in C, D956.
A recital from the Casals Quartet who are joined by cellist Miklos Perenyi for Schubert's Quintet in C major. Presented by John Shea.
12:31 AM
Webern, Anton [1883-1945]
5 Movements Op.5 for string quartet
Casals Quartet
12:43 AM
Schubert, Franz [1797-1828]
Quintet in C major D.956 for 2 violins, viola and 2 cellos
Miklós Perényi (cello), Casals Quartet
1:35 AM
Strauss, Richard [1864-1949]
5 Songs
Elizabeth Watts (soprano), Gary Matthewman (piano)
1:50 AM
Mendelssohn, Felix [1809-1847]
Symphony no.5 in D major "Reformation" (Op.107)
Norwegian Radio Orchestra, Takuo Yuasa (conductor)
2:24 AM
Josquin des Prez [c.1450/5-1521]
Motet Inviolata, integra et casta es (5 part)
Studio de Musique Ancienne de Montréal, Christopher Jackson (director)
2:31 AM
Rachmaninov, Sergey [1873-1943]
Concerto for piano and orchestra no.4 (Op.40) in G minor
Jean-Yves Thibaudet (piano), San Francisco Symphony Orchestra, Michael Tilson Thomas (conductor)
2:58 AM
Vivaldi, Antonio [1678-1741]
Gloria, cantata for soloists, mixed choir and orchestra in D major (RV.589)
Ann Monoyios (soprano), Matthew White (countertenor), Colin Ainsworth (tenor), Tafelmusik Chamber Choir, Tafelmusik Baroque Orchestra, Ivars Taurins (conductor)
3:27 AM
Suk, Josef [1874-1935]
Un Poco Triste (Op.17 No.3) - from Ctyri skladby for violin and piano (1900)
Uro? Prevor?ek (violin), Marjan Vodopivec (piano)
3:31 AM
Mozart, Wolfgang Amadeus [1756-1791]
Overture to the Magic Flute
Stavanger Symphony Orchestra, Fabio Biondi (conductor)
3:38 AM
Kodaly, Zoltan [1882-1967]
Adagio for clarinet and piano (1905)
Kálmán Berkes (clarinet), Zoltán Kocsis (piano)
3:46 AM
Cabezon, Antonio de [1510-1566]
Fantasia (instrumental)
Hesperion XX, Jordi Savall (director)
3:48 AM
Cornago, Johannes [fl. c.1450-1475]
Donde estas que non te veo
Montserrat Figueras (soprano), Hesperion XX, Jordi Savall (director)
3:52 AM
Guerrero, Francisco [c.1528-1599]
Ojos claros y serenos
Montserrat Figueras (soprano), Maite Arruabarrena (mezzo-soprano), Paolo Costa (countertenor), Lambert Climent (tenor), Hesperion XX, Jordi Savall (director)
3:55 AM
Debussy, Claude [1862-1918]
Prelude a l'apres-midi d'un faune
BBC Scottish Symphony Orchestra, Ilan Volkov (conductor)
4:07 AM
Weber, Carl Maria von [1786-1826]
Sonatina, Romance and Menuet - from Six petites piece faciles for piano duet (Op.3 Nos.1, 2 and 3)
Antra Viksne, Normunds Viksne (piano duet)
4:14 AM
Corelli, Arcangelo [1653-1713]
Sonata da chiesa in E minor (Op.3 No.5)
Camerata Tallinn
4:21 AM
Lyadov, Anatoly Konstantinovich [1855-1914]
The Enchanted Lake (Op.62)
Bergen Philharmonic Orchestra, Dmitri Kitaenko (conductor)
4:31 AM
Zulawski, Wawrzyniec [1918-1957]
Suite in the Old Style
National Polish Radio Symphony Orchestra, Miroslaw Blaszczyk (conductor)
4:42 AM
Liszt, Franz [1811-1886]
Liebestraume (S.541) no.3 in A flat major
Richard Raymond (piano)
4:48 AM
Valentini, Giuseppe [1681-1753]
Tocchin le trombe, a 10
La Capella Ducale , Musica Fiata Köln
4:56 AM
Weber, Carl Maria von [1786-1826]
Concertino for clarinet and orchestra (Op.26) in E flat major
Hannes Altrov (clarinet), Estonian National Symphony Orchestra, Paul Mägi (conductor)
5:06 AM
Purcell, Henry [1659-1695]
If music be the food of love (Z.379)
Kari Postma (soprano), Hans Knut Sveen (harpsichord)
5:11 AM
Chausson, Ernest [1855-1899]
Poeme, Op.25 (version for violin, string quartet and piano)
Philippe Graffin (violin), Jørgen Larsen (piano), Skampa Quartet
5:26 AM
Tchaikovsky, Pyotr Il'yich [1840-1893]
The Nutcracker: Waltz of the Flowers
RTV Slovenia Symphony Orchestra, Marko Munih (conductor)
5:33 AM
Chopin, Fryderyk [1810-1849]
Sonata No. 2 (Op. 35) in B flat minor 'Marche funebre'
Shura Cherkassky (piano)
5:59 AM
Ravel, Maurice [1875-1937]
Bolero
Sydney Symphony Orchestra, Stuart Challender (conductor)
6:14 AM
Glinka, Mikhail Ivanovich [1804-1857]
Trio pathetique for clarinet, bassoon and piano in D minor
Alexei Ogrintchouk (oboe), Ekaterina Apekisheva (piano), Boris Andrianov (cello).