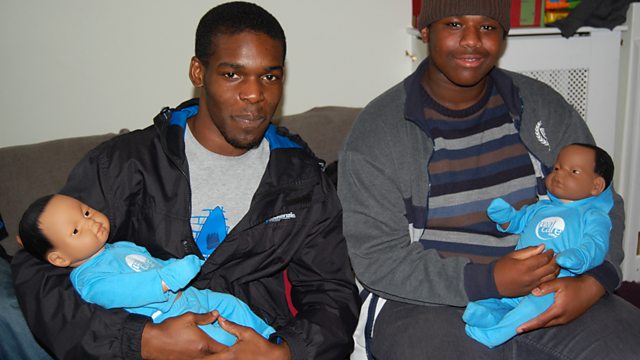 Like Father, Like Son?
From the moment his son Marcel was born, 1Xtra's Seani B was determined to step up and be a good dad to his child.
But statistics suggest Seani's unusual. Two-thirds of British-Caribbean children are brought up by a single parent - nearly always the mother. What's happening to all these dads? Dads like Warren, who feels women are partly to blame: "Girls are trapping guys to have babies, knowing the father won't play a major role. I got a text - "I'm pregnant." I got a text nine months later. "Your baby's born." I was having a lot of sex. I didn't pay no attention."
At a parenting class at St. Michael's Fellowship in South London, Seani meets young guys determined to go down a different road and be there for their kids.
Kevin isn't with his girlfriend anymore, but she's having his baby in a few months. He's scared - not only about late night feeds and nappies: "What I fear most is how my life's going to change. Certain things I got to stop doing, certain people I got to stop hanging round with." Dwayne is a single dad to his two year old daughter. Her birth has turned his life around. "When I first saw her it was just eye opening for me, just a real warm fuzzy moment. It changed me as a dad and made me to be a better person in life." He's found pushing a buggy round his estate gets him respect from his neighbours, and attention from the ladies! And JJ thinks dads like him should stand up and be counted. He helped organise a march last year, representing dads walking into their children's lives, with 100 men pushing their buggies through Brixton with pride.
And Seani hears from RnB superstar Usher and producer Dready - they shout out about the love they have for their kids - "I think cool is an understatement. It's near to God having a child.".
Last on