Main content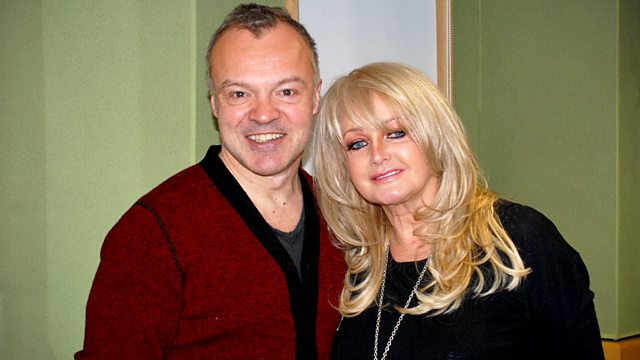 Bonnie Tyler and Alison Moyet
As the country struggled with unwanted snow, Mr Norton gave us two world exclusives from his guests: Alison Moyet and Bonnie Tyler. Plus a shop assistant thought Maria was a man.
What a busy one.
In Grill Graham, Norton and McErlane helped a couple whose neighbours liked loud music in their bedroom - that's a family-friendly euphemism - and a young Australian who wasn't getting paid. But what really bothered Maria was that a shop-assistant thought she was a man. We're tempted to add it's an easy mistake to make but it's not.
First guest of the day Alison Moyet brought us an exclusive song from her new album, and told us she can tune a piano but not play one.
Guest number two was Bonnie Tyler who is taking the hopes of the nation to the 58th Eurovision Song Contest in Sweden. Bonnie also gave us an exclusive first play of a track from her new album and revealed she won't be wearing a dress on the night. Fear not, she will be wearing something; it just won't be a dress.
Our Tune With A Tale baffled us, so if you have a moment, check out A Trick of The Tail by Genesis and let us know what it's all about. And the I Can't Believe It's Not Better offering was the 70's hit Dancing With The Captain by Paul Nicholas. Not everyone was dancing afterwards.
Clips