Main content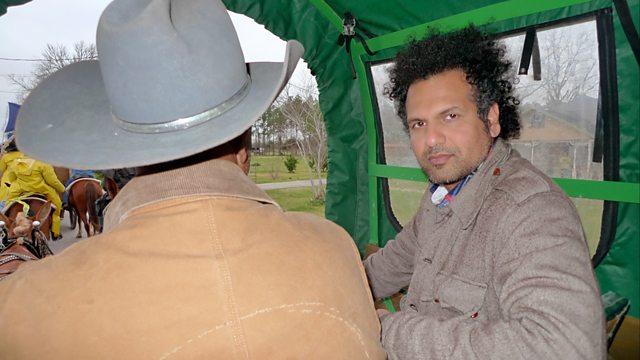 The Forgotten Black Cowboys
4 Extra Debut. Sarfraz Manzoor heads for Texas in search of America's black cowboys. Why were they airbrushed from history books? From March 2013.
Hollywood shows us a wild west populated only by white cowboys. But it's only part of the story, as Sarfraz Manzoor discovers as he goes in search of America's black cowboys.
On his journey through Texas, he finds that the west was populated by both African Americans and Hispanic cowboys, and that their legacy lives on today. He joins a trail ride with black cowboys as they make their way across the dusty plains following the routes of their ancestors. Complete with twelve covered wagons and up to 200 riders on horseback, Sarfraz finds a great pride in this black heritage.
In Wichita, Kansas, he meets one remarkable performer, the very first actor to appear as a black cowboy in the movies of the 1930s. At a time of racial segration in the United States, few white cinema goers would ever have heard of Herb Jeffries, but he was the hero in films such as 'Harlem on the Prairie'. Today Herb Jeffries is about to turn 100.
So how did this part of America get airbrushed out of the movies and the history books? He talks to experts and archivists, as well as those who have lived the life of the range, to find a true life story hidden from sight for many years.
Last on
Clips

Broadcasts