Noam Chomsky, Anthony Seldon
Noam Chomsky came to prominence in the 1950s for his work in linguistics and the philosophy of language. But in the 1960s he became a vocal opponent of the US war in Vietnam, and he's been one of the leading critics of US foreign policy ever since.
In London to deliver the Edward W Said Lecture on Middle Eastern Politics, Philip Dodd meets Chomsky for an extended conversation on American individualism, the role of reason, and a life spent holding authority to account.
Continuing the theme of authority and power, Philip goes to Wellington College in Berkshire to talk to the school's Master, Anthony Seldon. As well as being an educationalist and head of a major institution, Seldon has written biographies of Thatcher, Major, Blair and Brown, and brings a very different perspective to bear on how power operates in society.
Produced by Luke Mulhall.
Last on
Noam Chomsky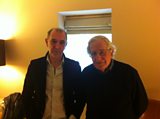 Anthony Seldon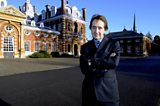 Anthony Seldon at Wellington College