Main content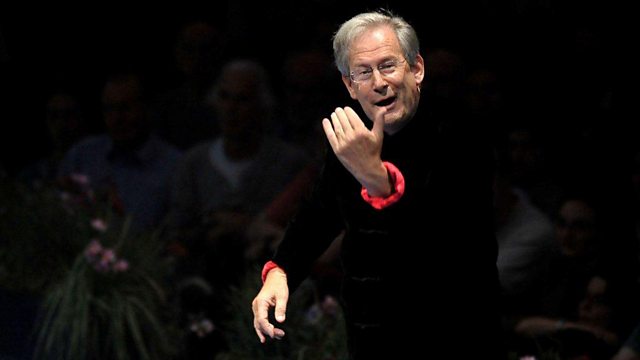 Sir John Eliot Gardiner; Jack the Giant Slayer review
Arts news. Mark Lawson speaks to conductor Sir John Eliot Gardiner as he prepares for a Bach Marathon, reviews Jack the Giant Slayer, and discusses Shakespeare's weddings.
With Mark Lawson.
Conductor Sir John Eliot Gardiner discusses his fascination with Bach as he prepares to lead a nine hour marathon of the composer's work at the Royal Albert Hall. In mid-rehearsal, Gardiner explains his attempt to convey the rock and roll of Bach. He also talks about his forthcoming 70th birthday, working with apprentices and the music that saps his energy.
Jack the Giant Slayer stars Nicholas Hoult as Jack, a young farm hand who must enter the land of the giants to rescue Princess Isabelle - in an adventure merging two fairy tales, Jack and the Beanstalk and Jack the Giant Killer. Sarah Crompton discusses whether this fantasy adventure from X-Men director Bryan Singer hits the mark.
The Royal Shakespeare Company in Stratford has become a licensed wedding venue - couples can now take to the stage and tie in the knot in the Swan Theatre. Professor Michael Dobson, director of the Shakespeare Institute, discusses Shakespeare's attitude to marriage and the weddings in his plays, from Beatrice and Benedick's union in Much Ado About Nothing to Kate's long wait for her groom in The Taming of the Shrew.
On the eve of Philip Roth's 80th birthday, another chance to hear part of a rare interview from 2011: the full interview is available on the Front Row website.
Producer Claire Bartleet.
Clips

Chapters
Sir John Eliot Gardiner

Conductor Sir John Eliot Gardiner discusses his fascination with Bach

Duration: 12:49

Jack The Giant Slayer

A review of Jack The Giant Slayer

Duration: 05:15

Shakespeare's Attitude to Weddings

Shakespeare's Attitude to Weddings

Duration: 05:22

Philip Roth interview

An interview with Philip Roth

Duration: 04:39