Main content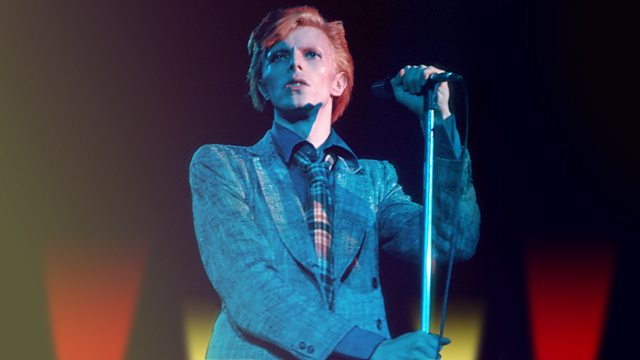 I Dressed Ziggy Stardust
Samira Ahmed meets British Asian women who, like her, were inspired by the ever-changing London pop star David Bowie. From 2013.
For more than four decades, David Bowie entranced his followers. In this programme, Samira Ahmed looks at his particular appeal for British Asian women.
Across the generations, they were inspired by the skinny South Londoner, who challenged gender barriers and who played with alien identity and other-worldliness. Beneath the make up and exotic costumes, he was also the intelligent, politely spoken suburban young man who you could potentially introduce to your mother.
As Samira explores Bowie's impact on British Asian teenagers, she talks to Shami Chakrabarti - the director of Liberty - about Bowie's changing identities, sociologist Rupa Huq tackles his suburban psychoses, and Shyama Perera takes Samira on a journey to explain how her teenage obsession with Bowie even extended to sending costume designs to her hero, enabling her to claim that "I Dressed Ziggy Stardust".
Presenter: Samira Ahmed
Producer: Alice Bloch
A Whistledown/ Kati Whitaker production for BBC Radio 4
Last on

Samira Ahmed reflects on how David Bowie dared her to love 'the alien within.'
Broadcasts

Featured in...
Seriously interesting documentaries from Radio 4.

Hear interviews and documentaries about David Bowie