Main content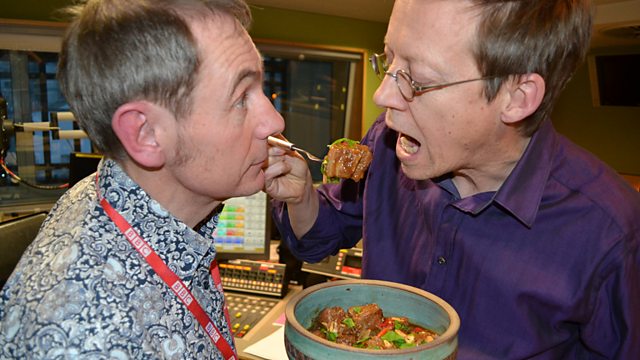 Foodie Thursday
Simon Mayo is joined by our resident chef Nigel Barden for another Foodie Thursday, who'll be cooking up Pork Adobo! Plus there's a brand new confession and all the usual sport, money and travel news.
Nigel's Pork Adobo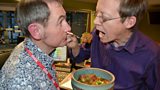 Pork Adobo by Allegra McEvedy from Bought, Borrowed & Stolen (Conran Octopus)
 
Adobo-ing is part of the National Culinary Curriculum in the Philippines, & vinegar is the defining factor of the adobo.  Not for the faint-hearted though, because as well as being totally delicious, or 'masarap' as they say. It's full-on-flavour, so eat it with plain rice.
 
Serves 4-6
 
Prep time: 30 mins
Cooking time: 1hr
 
Ingredients

60ml / 2½ fl.oz groundnut (peanut) oil
10 cloves of garlic, sliced
700g/1lb 6oz pork belly (no bones but skin on), cut into chunks about 5 x 2.5 x 2.5cm / 2 x 1 x 1"(you can ask your butcher to do this or just go at it yourself)
2 red onions, peeled & thickly sliced
2 red or green peppers, cut into large bite-sized pieces
a good thumb of ginger, trimmed, washed & coarsely grated
½ tbsp paprika
250ml / 8 fl.oz white wine vinegar
125ml/ 4 fl.oz light soy sauce
6 bay leaves
1 level tbsp peppercorns
salt
 
Method
1.    Heat the oil in a large, wide pan (around 25cm / 10" across & at least 7cm / 3" deep) over a high heat.
2.    Drop in half the garlic slices, give them a swirl & after a couple of mins when they are golden, take them out with a slotted spoon & put on kitchen paper.
3.    Keeping the heat high, add the pork pieces to the pan & let them sizzle for about 10 mins, until golden brown.
4.    When they are starting to stick to the bottom of the pan, chuck in the onions, peppers, ginger & the rest of the garlic (don't worry if your pan is pretty full – it'll all collapse in time).
5.    Give it all a bit of a mix, cover, turn down the heat & cook for about 5-7 mins, giving it the odd stir, until the veg are starting to soften.
6.    Add the paprika & mix well, then pour in the vinegar & soy, along with 500ml/17fl.oz of water.
7.    Once the liquids are in there, chuck in the bay leaves, peppercorns & a couple of big pinches of salt.
8.    Bring to the boil, then turn the heat down to a steady but busy simmer.
9.    Cook & reduce for about 50-60mins, stirring from time to time, until the liquid has a thick, coating consistency.
10. Sprinkle with the fried garlic before serving.