Main content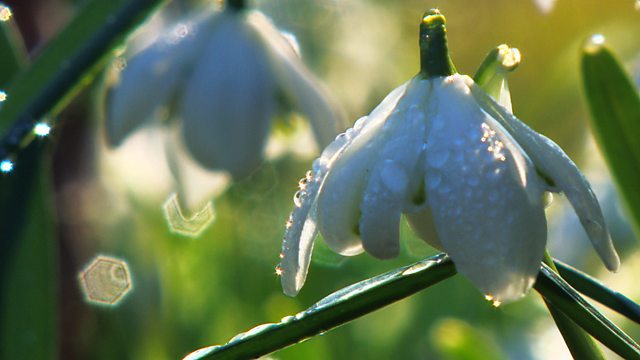 Gardening magazine. Monty Don reveals the changes he has made to his garden over the winter, tackles timely pruning tasks and shows the best way to lay a new path.
The first signs of spring herald the start of the new gardening year and the start of a new series of Gardeners' World.
In the seasons to come, Monty Don will be in his garden, Longmeadow, and along with Carol Klein, Joe Swift and Rachel de Thame, will have a host of practical tips and inspirational ideas to help viewers improve their gardens.
Monty Don reveals the changes he has made to his garden over the winter, tackles timely pruning tasks and shows us the best way to lay a new path.
Snowdrops are lighting up the winter garden and Carol is out and about in Oxfordshire celebrating their staggering diversity and the length to which some gardeners will go in order to get their hands on the latest varieties.
Rachel visits Cambridge Botanic Garden, which has one of the country's most celebrated winter gardens, to find inspiring plants and planting combinations that not only look fabulous now but that can also provide year round interest.
Over the next few weeks Joe will be helping viewers achieve the garden of their dreams by offering up simple planting design plans for four very different styles of garden. He starts off with the romance of a cottage garden.
More episodes
Previous
You are at the first episode
Clips

Joe's cottage garden plants
Joe's simple design uses the following plants:
Small tree
Crataegus prunifolia (Hawthorn)
Mid-story shrubs
Rose x 1
Sarcococca confusa (Sweet box) x 3
Box ball x 1
Climbers
Honeysuckle
Clematis
Climbing rose
Ivy
Mid-story perennials
Anemone x hybrida (Japanese anemone)
Astrantia major (Masterwort)
Peony x 3
Ground cover and lower perennials at front
Pulmonaria (Lungwort)
Hellebores
Alchemilla mollis (Lady's mantle)
Geranium
Bulbs
Choose and find plants for your garden (rhs.org.uk)
Making brick paths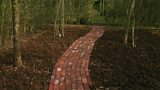 The right path adds structure and permanence to a garden as well as being really useful for access. Monty used reclaimed bricks to create a rustic looking path in the Writing Garden at Longmeadow but new bricks are readily available.
To build a brick path, excavate a trench at least 20cm deep, fill with a 10cm base of finely broken up rubble and tamp down firmly. For laying bricks of uniform shape and size, top with about 5cm of sand and level off to create a smooth flat surface for laying the bricks on. For uneven sized bricks, like the ones Monty used, sand can be added bit by bit in order to adjust the depth under each brick.
To ensure your path is level, pegs hammered into the ground act as a good guide for the depths of rubble and sand.
For straight paths, boards make useful edging; for curving paths, mark out your edges first (hosepipe makes a useful guide) and cement in bricks along each edge. Then infill with bricks placed on sand. With reclaimed bricks, Monty found laying one edge, infilling and then laying the other edge avoided the problems caused by their uneven widths.
Finish by brushing coarse sand or a dry mortar mix into the cracks. After rain, more may be needed to top up.
Winter is a good time to tackle these projects before the beds and borders burst into life and need lots of attention. Take care to cover up freshly mortared bricks in wet or frosty conditions to ensure the cement sets firmly.
More information about laying paths (www.pavingexpert.com)
Featured garden: Kingston Bagpuize House
Featured garden: Cambridge University Botanic Garden
Shrubs for late winter interest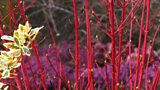 Abelophyllum distichum (White forsythia)
Chimonanthus praecox (Wintersweet)
Cornus alba 'Sibirica' (Siberian dogwood)
Daphne bholua 'Jacqueline Postill' and 'Gurkha'
Hamamelis x intermedia (Witch hazel)
Lonicera fragrantissima (Winter-flowering honeysuckle)
Lonicera x purpusii  (Shrubby winter honeysuckle)
Mahonia x media 'Winter Sun'
Prunus mume 'Beni-chidori' (Japanese apricot)
Prunus x subhirtella 'Autumnalis'
Rubus cockburnianus (White-stemmed bramble)
Rubus phoenicolasius (Japanese wineberry)
Sarcococca confusa (Sweet box)
Viburnum x bodnantense 'Dawn'
For more ideas of gardens to visit with winter colour and interest, please see below.
Jobs for the weekend: Cut back autumn-fruiting raspberries
Autumn-fruiting raspberries produce their fruit on the current season's growth. To prune, cut all stems down to the ground now and then mulch the area with garden compost. Over the next few weeks new shoots will appear; these will form new canes which will produce flowers and then fruit from late summer onwards. 
More about raspberries (rhs.org.uk)
Jobs for the weekend: Prune late-flowering clematis
Late-flowering clematis, such as Clematis viticella should be pruned now as they come into growth. If your Clematis starts flowering in July or August, it is a late-flowering type (often called group 3). Cut all the twiggy stems down to new green buds or shoots near the base. Remove all the top growth and the remaining buds will produce a mass of new shoots which should be smothered in flowers later in the year. 
More about pruning clematis (www.britishclematis.org.uk)
Jobs for the weekend: Sow chillies, peppers and celeriac
There's no hurry to sow seed but if you are going to get started then begin with chillies, peppers and celeriac which are all slow to germinate and need a long growing season to do well. Sow seed in a seed tray or pot filled with multipurpose or seed compost and cover thinly. Place in a warm place, such as a heated propagator or sunny windowsill, to germinate.
Gardens to visit for winter interest
Credits
| Role | Contributor |
| --- | --- |
| Presenter | Monty Don |
| Presenter | Carol Klein |
| Presenter | Joe Swift |
| Presenter | Rachel de Thame |
| Series Editor | Liz Rumbold |
| Producer | Babs Lewis |