Main content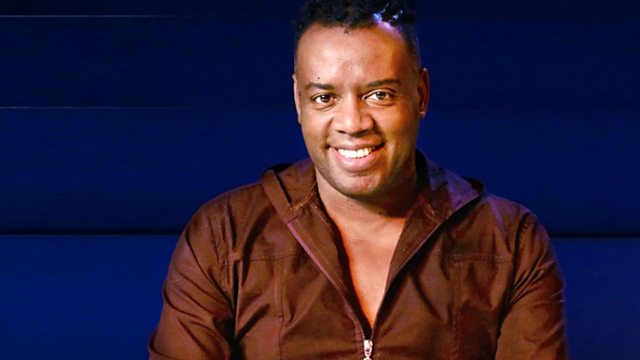 Feel the Chant: The Brit Funk Story
4 Extra Debut. David Grant revisits a unique era in British music which saw artists experimenting with a fusion of jazz, funk, urban dance rhythm and pop. From March 2013.
In the seventies and early eighties, Jazz Funk music swept the UK's dance floors and clubs. This new musical sound emerged from the shadows of disco and had a fascinating impact in Britain.
We hear from Mark King of Level 42, Gee Bello of Light of the World, Bill Sharpe and Jill Sayward of Shakatak, DJ's Chris Hill and Snowboy, Paul P of Hi-Tension and Southern Freeez singer Ingrid Mansfield Allman.
In this documentary, vocalist and presenter David Grant, who was part of the UK soul outfit Linx, revisits this unique era in British music which saw artists experimenting with a fusion of jazz, funk, urban dance rhythm and pop hooks.
He reveals the origins of the phrase 'Brit-Funk' and how the pioneers of this sound, groups Hi Tension and Light of the World, presented their music with a British twist to their instrumentation and vocals.
The Jazz funk scene was British, a club culture unique to these shores with no equivalent in the States. As the music became popular, the release of 12" singles fuelled a craze for white-labels.
Grant acknowledges that Brit Funk, although considered in some quarters as a pale imitation of US Jazz Funk, was nonetheless ours - and heralded a new dawn in dance music. The term evolved from the club DJs - legendary names such as Chris Hill, and James Hamilton of Record Mirror whose column had a major influence in launching new records.
With support from the club disc jockeys and labels such as Ensign and Elite, artists including Light of the World, Level 42, Shakatak and Freeez enjoyed chart success and made regular appearances on Top of the Pops alongside the new romantics and punk groups of this period. With club DJs gaining cult status, the scene also created many 'club hits' which, although they never achieved commercial success, are still remembered with great affection today and discussed on music forum websites and uploaded to Youtube.
Many British based soul and dance bands found themselves merging under the Brit Funk banner. These included Lynx, Central Line, Imagination and Second Image - and initially pop groups such as Haircut 100 and Wham tapped into the style and sound to help launch their careers.
Grant demonstrates how this scene was hugely significant in cutting through racial boundaries in the clubs and was instrumental in raising the profile of black and white musicians working together, notably Spandau Ballet who collaborated with Beggar And Co to produce the classic pop song 'Chant Number One'.
He explains how, during the success of the Jazz and Brit Funk period, "chanting" materialised in the discotheque and nightclub. This football crowd style of interacting with the music and DJ underlined the voice of a new generation which can still be felt today.