Main content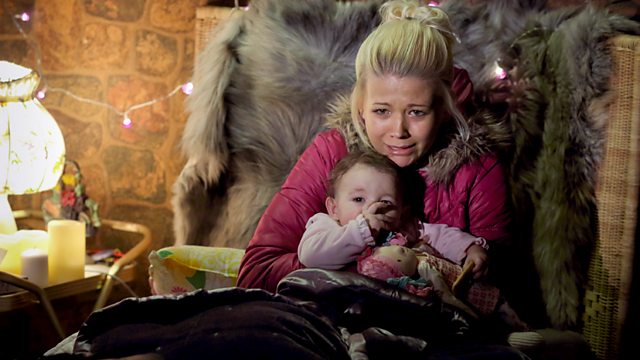 07/03/2013
The hunt continues for Lola and Lexi, and Phil is in a race against time to find them. Cora comes up with a plan to clear her name, and Ian and Denise spend the night together.
Phil, Sharon and Billy discover Lola's phone in the Arches along with the empty petty cash tin. Lola's last number dialled leads them to Alexa's house. Alexa demands money and then claims Lola's gone. Phil searches the house and doesn't spot Lola and Lexi cowering behind a wardrobe. Alexa tells Lola she can for stay the night, they're having a party. Billy and Dexter look for Lola in a cafe and on the streets. Lola flees Alexa's house when the police arrive. Phil and Sharon continue searching into the night. Sharon realises Lola could be at a park she mentioned going to when she lived at the children's home. Sharon tells Phil a few home truths. Phil starts to despair and insists he's still the man she fell in love with. They kiss. Phil and Sharon find Lola and Lexi hiding in the park. Lola's terrified when she sees Phil but he just hugs and reassures her.
Dot and Cora lie in wait for the mystery thief and fall asleep on the sofa. They're awoken in the night to noises from the kitchen and discover that the 'thief' is actually a nude, sleepwalking Fatboy. Fatboy's mortified and Dot's upset with Poppy for having uninvited overnight guests and lying to her. Dot's anxious when Cora nearly discovers her unopened council letter.
Denise and Ian try and fail to escape from the Minute Mart back room. Trapped, the pair bicker and Ian shows Denise his devil tattoo. After Denise takes an impression of Ian during his breakdown too far, Ian opens up about this tough time. They start to find common ground and a discussion about past relationships leads to an unexpected kiss. Denise and Ian lie snuggled up together; Denise admits she doesn't want to be lonely anymore then realises Ian's asleep.
Music Played
Timings (where shown) are from the start of the programme in hours and minutes
Credits
| Role | Contributor |
| --- | --- |
| Phil Mitchell | Steve McFadden |
| Lola Pearce | Danielle Harold |
| Sharon Rickman | Letitia Dean |
| Billy Mitchell | Perry Fenwick |
| Denise Fox | Diane Parish |
| Ian Beale | Adam Woodyatt |
| Dot Branning | June Brown |
| Cora Cross | Ann Mitchell |
| Arthur 'Fatboy' Chubb | Ricky Norwood |
| Poppy Meadow | Rachel Bright |
| Dexter Hartman | Khali Best |
| Alexa | Saffron Coomber |
| Executive Producer | Lorraine Newman |
| Director | Nic Phillips |
| Writer | Daisy Coulam |