Main content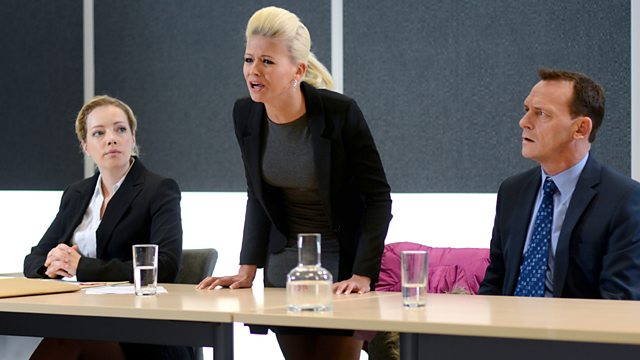 05/03/2013
A desperate Lola, livid with Phil, takes matters into her own hands. Fed up with three people being in their relationship, Jack gives Sharon an ultimatum.
As Lola screeches at Phil, the Judge warns her she'll be removed and rules that Lola's existing contact continue and Phil will remain Lexi's carer. Lola flees, in tears, and shouts at Phil as he exits the court. Trish confronts Phil about his allegations. Sharon swears she had no idea of Phil's plan. Lola's inconsolable and, back home, furiously packs away Lexi's baby things and cries. Lola pleads Sharon make Phil see sense but she's preoccupied with Jack. Billy tries to reason with Phil. Lola's unable to wait at home and lets herself into Phil's. Listening unseen, she overhears Phil declaring she'll never get Lexi back. Phil hears a noise; in the hall, he and Billy find Lexi's buggy gone and the front door open.
Jack supports an upset Sharon home from court, urging her to see Lola before they talk. Later, Jack struggles to express he loves her. They discuss Ronnie; Jack insists Sharon is stronger and although he commends Sharon helping Lola also wants her to give it up. Sharon refuses to be dominated and thinks Jack and Phil are the same. They argue heatedly. Sharon slaps Jack before kissing him passionately, they're soon shedding clothes. Later, Jack states he wants to be a family but needs total commitment - no contact with Phil.
Dot discovers her cold cuts are missing and is convinced Cora's the culprit. Poppy thinks Dot's acting strangely. Offended, Dot reels off a list of her possessions and their history and exits to confront Cora.
Denise and Kim juggle work and taking care of Patrick; a soup bowl gets smashed when Kim leaves him unattended. Keen to help, Ian calls on Patrick, sneaking rum past Kim. Denise is touched. Ian and Patrick play I-spy. Patrick sees through Ian and teases he should ask Denise out.
Clips

Music Played
Timings (where shown) are from the start of the programme in hours and minutes
Credits
| Role | Contributor |
| --- | --- |
| Phil Mitchell | Steve McFadden |
| Billy Mitchell | Perry Fenwick |
| Lola Pearce | Danielle Harold |
| Sharon Rickman | Letitia Dean |
| Jack Branning | Scott Maslen |
| Denise Fox | Diane Parish |
| Kim Fox | Tameka Empson |
| Patrick Trueman | Rudolph Walker |
| Ian Beale | Adam Woodyatt |
| Dot Branning | June Brown |
| Arthur 'Fatboy' Chubb | Ricky Norwood |
| Poppy Meadow | Rachel Bright |
| Trish Barnes | Tessa Churchard |
| Hattie Brownlow | Amy Hall |
| David Dessler | Tristan Beint |
| Judge Madeley | Helen Schlesinger |
| Executive Producer | Lorraine Newman |
| Director | Nic Phillips |
| Writer | Lauren Klee |