Main content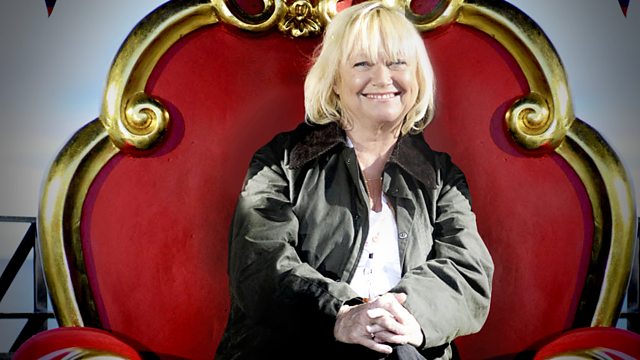 Judy Finnigan, Jeff Lynne's Inheritance Tracks, a wooden dog from Stalag Luft lll and the sounds of a Cornish Cave
Sian Williams and Richard Coles with writer and broadcaster Judy Finnigan, the Inheritance Tracks of Jeff Lynne from ELO and poetry from Kate Fox.
Sian Williams and Richard Coles with writer and broadcaster Judy Finnigan, Adam who suffers from auditory verbal hallucinations- hearing voices, poetry from Kate Fox, a glimpse inside the film 'Lincoln' with one of the historical advisors Professor Catherine Clinton, a sound sculpture from a Cornish cave, The Thing about Me- a listener's momento from Stalag Luft lll ( The Great Escape ) is a wooden dog and The Inheritance Tracks of Jeff Lynne from ELO
Producer: Chris Wilson.
STUDIO GUEST :: JUDY FINNIGAN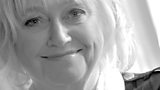 The TV presenter turned writer joins Sian and Richard to talk about her life and work.
Judy's  latest novel is 'Eloise', published by Sphere
SOUND SCULPTURE :: CORNISH CAVE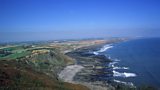 Artist Sarah Adams tells us about the inspiration behind her work.
PROFESSOR CATHERINE CLINTON :: GETTING 'LINCOLN' RIGHT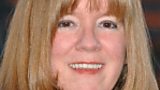 Catherine's day job is as Professor of US history at Queen's University Belfast.  She joins Sian and Richard to talk about her role as historical adviser on Stephen Speilberg's film 'Lincoln'.
THING ABOUT ME :: WOODEN DOG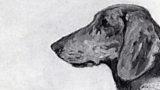 John Elliott shows us the carved wooden dog he believes his father was given while a prisoner of war in Stalag Luft III from where the Great Escape took place.
HEARING VOICES :: ONE MAN'S EXPERIENCE
INHERITANCE TRACKS :: JEFF LYNNE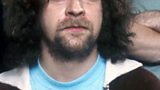 Jeff chooses 'If I loved you' from Carousel by Rodgers and Hammerstein and 'Only the Lonely' by Roy Orbison.
BLOG :: RICHARD RESOLVING CONFLICT IN COVENTRY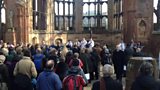 I've been in Coventry this week at a conference – how exciting my life must seem! – and have reacquainted myself with a city I used to know a bit, partly though living near it during the days of Ska, partly though playing in it through the days of the Communards, partly through its cathedral, a place with a history in the hard work of reconciliation. The cathedral is itself an effort of reconciliation, built out of the ruins left by the Luftwaffe's redesign of the city centre during the Second World War, and is one of the great sights of Britain. Modernism working, with humanity at its centre, in beautiful materials that make you go 'wow', and with a delight and elegance that would make a curmudgeon skip down the aisle. It was the setting for a three day exploration of conflict and its repair, both of which churches are good at providing, and we heard from speakers who had been kept busy with such things around the world, in Northern Ireland, in the Sudan, in the Middle East and in the United States. In spite of our remarkable capacity for exciting disagreement and fomenting strife the churches also have a rich tradition of conflict resolution. I say 'in spite' it's more a case of 'because of', for conflict is normal, not something we accidentally stumble into, like falling into a pond, but an inevitable consequence of being alive around others being alive. And even the most peaceable among us can lose it sometimes; I heard recently of a Quaker throwing a chair at another during a silent meeting. Sometimes words are not enough.
Like most people attending conferences I bunked off once or twice, to have supper with someone I've made friends with on Twitter who lives nearby. He's a twenty two year old art student called Charlie with more piercings than the Forth Rail Bridge and blue hair and he flung open a window on a world I know little about. Then I was minding my own business in a pizzeria when a lady came over and said hello. I thought, 'You're the Archdeacon of somewhere, but I can't remember where' and then she said her name – Alison Steadman – and I blushed because she's not only one of my heroes but she's also been a guest on Saturday Live. She gave me her surplus olives, thanks very much. Which was nice...
I wonder if our guest this week, Judy Finnigan, will have thought to bring a snack? We had her other half on a while ago, Richard Madeley, and I'm sorry to say he didn't, mind you he'd been hanging out with squatters that week. Judy will be joined by a man who hears voices - auditory verbal hallucinations - and a historian  who advised Steven  Spielberg on how to get Lincoln's stovepipe hat right.
All these and more on Saturday Live