Main content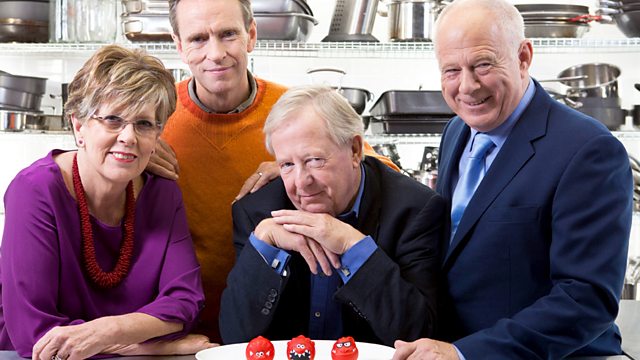 Chefs compete to cook at a banquet to celebrate 25 years of Red Nose Day. The two remaining North East chefs must cook their entire menus for the judges.
Great British Menu continues as 24 of the nation's finest chefs battle it out to cook gastronomic masterpieces that are also witty and fun. Their dishes have to put a smile on faces as Great British Menu celebrates 25 years of Comic Relief's Red Nose Day appeals.
Through the power of entertainment the charity has raised more than 800 million pounds, changing the lives of people in both Africa and the UK. So this year Britain's top chefs have been challenged to marry serious cooking with humour to celebrate the charity's achievements. The prize: to cook a dish at a special banquet at The Royal Albert Hall.
It is decision time for the chefs from the North East. One chef has already left the competition and only two remain. They must now cook their entire menus for the Great British Menu judges - Prue Leith, Matthew Fort, Oliver Peyton and their guest, comedian Tim Brooke-Taylor. The judges aren't easily pleased and only world class cooking will do.
The chef's task is to deliver a performance on a plate - food that is gastronomic and delicious to eat but will put a smile on everyone's face too. Only one chef can make it through to the national finals to represent the North East.
Credits
| Role | Contributor |
| --- | --- |
| Series Producer | Lisa Hazlehurst |
| Series Producer | Lisa Hazlehurst |
| Executive Producer | Nicola Moody |
| Executive Producer | Nicola Moody |
| Judge | Prue Leith |
| Judge | Prue Leith |
| Judge | Matthew Fort |
| Judge | Matthew Fort |
| Judge | Oliver Peyton |
| Judge | Oliver Peyton |
| Judge | Tim Brooke-Taylor |
| Judge | Tim Brooke-Taylor |