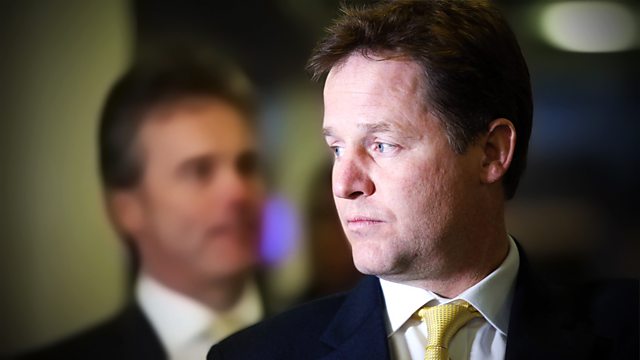 25/02/2013
Morning news and current affairs with Sarah Montague and Justin Webb, including:
0810
Liberal Democrat leader Nick Clegg denies claims of a cover-up over the alleged inappropriate behaviour of the party's former chief executive, Lord Rennard. The BBC's political editor Nick Robinson and Liberal democrat MP Tim Farron, examine the significance of the news.
0819
Daniel Day-Lewis has won the best actor Oscar for his role in Steven Spielberg's Lincoln, making him the first to win the best actor prize three times, while Ben Affleck's thriller Argo is crowned best film. The BBC's David Willis reports from the awards and Tamasin Day-Lewis and director Steven Frears talk about their success.
0831
Are we facing a "Sterling crisis" with the pound headed for parity against the Euro? And does the Moody's downgrade of the UK's AAA credit rating signal greater relative decline ahead for the UK economy? Singapore-based investor Jim Rogers, co-founder of the Quantum Fund, outlines his view on the UK's financial future.
0837
Only one in 10 people can name their Police and Crime Commissioner despite the fact they have been in post for three months and they were publicly elected. Policing Minister Damian Green discusses the issue.
Last on
A rundown of stories from Monday 25 February including programme highlights and comment.
So you think you know the Today programme?