Main content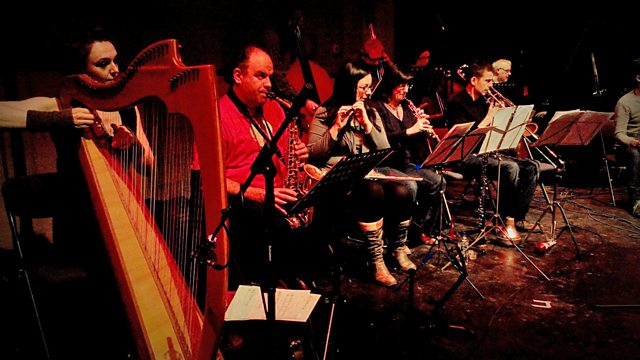 Glasgow Improvisers Orchestra
Jez Nelson presents the Glasgow Improvisers Orchestra performing two new commissions by high-profile avant-garde American composers Jim O'Rourke and George Lewis.
"Trade shoes with the person on your right" and "Play in the style that would be appropriate to accompany a belly dance" - not the usual sorts of instructions to give to a big band, but Glasgow Improvisers Orchestra were certainly up to the challenges presented by Jim O'Rourke's specially commissioned piece.
The work was one of two new commissions by American composers premiered at the fifth edition of GIO's annual festival. Celebrating their tenth anniversary, the orchestra's ever-ambitious and outward-looking approach comes across in these specially composed pieces by two stalwarts of Chicago's rich avant-garde tradition. Guest conductor and trombone player George Lewis first presents Tractatus - a detailed score exploring the difference between 'artistic' and 'everyday' improvisation, a distinction he explains in conversation with interviewer Brian Morton. The second commission - sent by Jim O'Rourke from his current home of Tokyo - is very different, consisting of two decks of playing cards on which are written instructions for the various members of the orchestra. The directions prompt - in the words of saxophonist and founding GIO leader Raymond MacDonald - a "negotiation between the individual and what's written on the card" and produced an exciting and unusual performance from the group. Listen out for shoes in the piano, manic trumpet fanfares, an impromptu round of drinks and a short lecture on haggis!
Presenter: Jez Nelson
Producers: Peggy Sutton & Phil Smith.
Music Played
New Release

Glasgow Improvisers Orchestra recorded at Centre for Contemporary Arts, Glasgow on 1 December 2012

Untitled

Line-up: Una MacGlone (double bass); Raymond MacDonald (saxophone); Gerry Rossi (piano); Nicole McNeilly (trombone); Emma Roche (flute); Rick Bamford (drums); Robert Henderson (trumpet);

Untitled

Graeme Wilson (saxophone); Neil Davidson (guitar); George Burt (guitar); Peter Nicholson (cello); George Murray (trombone); Liene Rozite (flute); Nicola MacDonald (melodica/voice);

Untitled

George Lyle (double bass); Armin Sturm (double bass); Stuart Brown (drums/percussion); Aileen Campbell (voice); Fergus Kerr (french horn); Anne Rankin (oboe); Jim McEwan (keyboards);

Untitled

Matthew Studdert-Kennedy (flute); Catriona McKay (harp); George Lewis (trombone); Maggie Nicols (voice); Sue McKenzie (saxophone)

A Tribute to Donald Byrd