Main content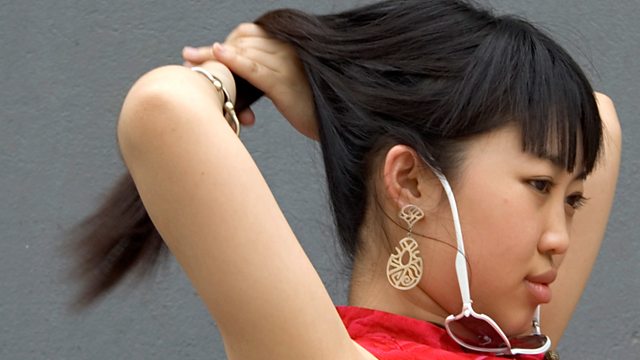 In Hirsuite of the Truth
A sequence of poetry, prose and music on the theme of that object of commerce and symbol of virility - hair.
In hirsute of the truth: hair can be a weapon with which to strangle your lover or a net in which to catch your crumbs. During the Victorian period, hair was a highly charged symbol of virility and an object of commerce. Changing hairstyles depict the changing power relationship between women and patriarchy. It has been fetishised, idolised and can be very useful if you're a cellist.
From the stories of Samson and Delilah and Rapunzel we see how hair - for centuries even - was considered a metaphor for virtue or righteousness: an idea especially evinced in the novels of Elizabeth Gaskell and George Eliot. Deryn Rees-Jones's haunting poem 'My Father's Hair' describes how her father's identity developed during his life and how, at his life's end, the 'long white wings' come to rest on the pillow of his sick bed.
Evil and violence pursue the Demon Barber of Fleet Street. First told in a Penny Dreadful of the 1840s, the story of Sweeney Todd inspired Stephen Sondheim's Opera of the same name. It follows a long history of compositions which conjure images of death and destruction: from Robert Browning's sinister 'Porphyria's Lover' to Carol Ann Duffy's 'Medusa'.
Producer: Gavin Heard.
Music Played
Timings (where shown) are from the start of the programme in hours and minutes
WB Yeats

For Ann Gregory, Oliver Dimsdale

Brother Grimm translated by Philip Pullman

Rapunzel, Sylvestra Le Touzel

Alexander Pope

The Rape of the Locke, Oliver Dimsdale

Elizabeth Barrett Browning

I never gave a lock of hair away, Sylvestra Le Touzel

James Tolan

The Forest of my Hair, Oliver Dimsdale

Deryn Rees-Jones

My Father's Hair, Sylvestra Le Touzel

Anonymous

The String of Pearls, Oliver Dimsdale

Robert Browning

Porphyria's Lover, Sylvestra Le Touzel

William Shakespeare

Sonnet 103, Oliver Dimsdale

Carol Ann Duffy

Medusa, Sylvestra Le Touzel

Algernon Charles Swinburne

Rondel, Sylvestra Le Touzel

Richard Lovelace

Song to Amarantha, that she would Dishevel her Hair, Oliver Dimsdale

Carl Sandburg

Women Washing their Hair, Sylvestra Le Touzel

Roald Dahl

The Twits, Oliver Dimsdale

George Eliot

Middlemarch, Oliver Dimsdale

Elizabeth Gaskell

Ruth, Sylvestra Le Touzel