Main content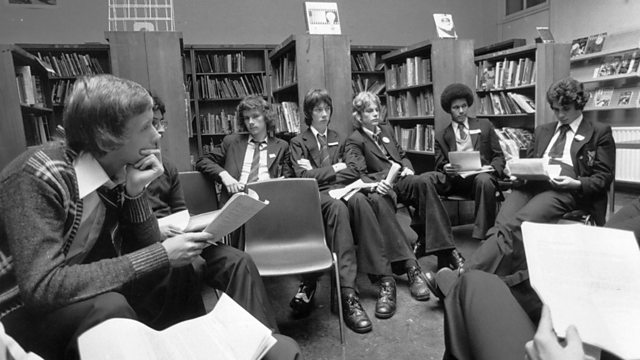 Another Brick in the Wall - The Best Days of Our Lives?
Stuart Maconie looks back at the records that reflected the 'happiest days of our lives' - chart hits that talked about the British school experience.
From blackboards to interactive whiteboards, from hopscotch to laptops, schools will have changed significantly in the last 60 years, but the essential experience probably stays similar. One's school years are a bittersweet time - exciting yet exhausting, surprising yet sometimes sad, rewarding yet routine, interesting yet interminable. It's also where we start to find ourselves, and where we start to form alliances and swear allegiances in friendships, sport, fashion and music. We swap tapes and CDs, learn songs, take sides (Beatles or Stones? Bowie or Bolan? Spice Girls or All Saints?), discuss what happened on last night's Top Of The Pops and make our first tentative steps into tribalism.
Our school years play a huge part in shaping who and what we become. As such, it's little surprise that there are so many songs about school and that so many are big hits; from the light-hearted, like Chuck Berry's School Day, to the whimsical, say, Madness' Baggy Trousers, to the rebellious Alice Cooper's School's Out, with its gleeful boast that school's been blown to pieces! And in this episode, we'll feature Pink Floyd's Another Brick In The Wall, a view of education that is sour and sardonic.
Rock 'n roll is a young man's game, so it's little wonder that a large number of bands are formed at school or college but what's more surprising is the number of ones that go onto great things; U2, Coldplay, Radiohead, Pink Floyd and Queen are among the most notable and successful examples. And still fresh from education, many bands have written songs about their experiences. From The Clash to Calvin Harris, from Radiohead to Cliff Richard, Bullet For My Valentine to Belle And Sebastian, and from the Kaiser Chiefs to The Kinks, songs about school are ubiquitous in the pop canon.
Share your comments and stories
Your contributions will play a key part in this episode, take a look at the questions below and send us your thoughts:
What bands or albums did you discover through friends at school?
Did you ever bunk off school to buy an album, single or concert tickets?
What's your strongest memory of your school days?
How have your school days influenced your life?