Main content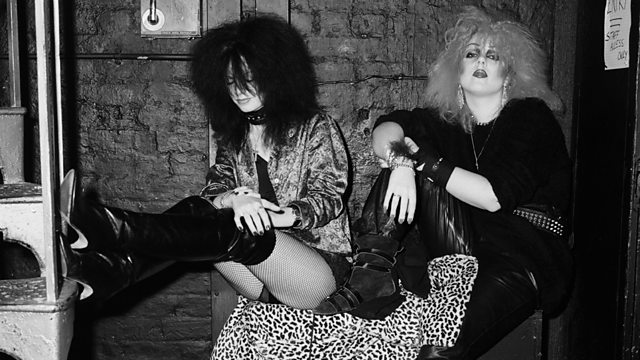 The Love Cats - A Peculiarly British Style
Stuart focusses on the early 80s and the notion of the Goth.
Goth is very much a British invention and something most British teenagers will have dabbled with to some degree in their lives, as it tends to be the alienated kid's look of choice. Goth emerged as a musical subculture in the early '80s, with bands like The Cure, Bauhaus or Siouxsie And The Banshees, but the term was first used musically by Tony Wilson to brilliantly describe Joy Division's monochromatic oeuvre. The notion of Gothic was already an historical artefact by the time British teenagers latched onto it at the end of the dour, dismal '70s. Gothic, as an art form, has its roots in the brooding anti-heroes and heroines of 19th Century fiction from the likes of John Keats, Mary Shelley and Lord Byron and, a little later, HP Lovecraft, Bram Stoker or Henry James. It is typically melodramatic and abounds with ghosts, and ghouls, castles and caskets, velvet and vampires. It's also very much the product of an island nation with an over-active imagination and centuries of folklore and tale-telling.
But for a teenager (or even the odd grown-up) wanting to rebel, the Gothic look is one of the most enduring and arresting ways to do it; pale white skin from brooding in your bedroom all night, black clothing to signify you're an outsider (and possibly one of the bad guys) and morose music that echoes your belief that life is all too tough and transient.
Its appeal lies in it being quite outside of, and more authentic than, contemporary life, with its emphasis on the disposable and plastic. Having said that, Goth has entered the mainstream of late through bands like My Chemical Romance, as well as the Twilight films and the BBC's own Being Human series.
Share your comments and stories
Your contributions will play a key part in this episode, take a look at the questions below and send us your thoughts:
Did you ever go through a Goth phase?
What did you think of the Goth phenomenon?
Have you ever made the pilgrimage to Whitby to visit the town where Dracula was supposed to come ashore?
Why has the Goth look endured so long? What's the appeal?
Which song do you think best defines what Goth is?