Main content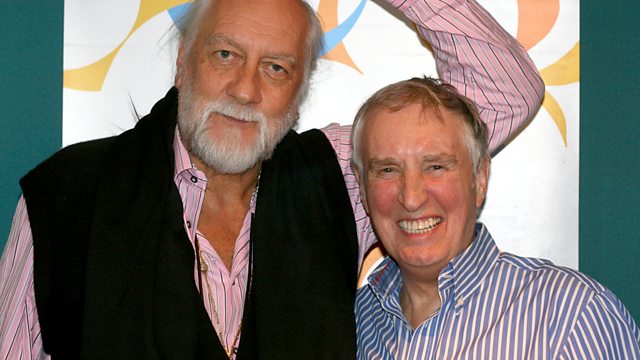 Fleetwood Mac: Don't Stop
Johnnie Walker talks to the tallest drummer in rock, Mick Fleetwood, as his band Fleetwood Mac celebrates 35 years of their iconic 1977 album Rumours.
Johnnie Walker re-visits the decade that brought us Pan's People, Punk and Pink Floyd. This week's show is dedicated to one of the most enduring and beloved albums of the 1970's: 'Rumours' by Fleetwood Mac.
35 years on, with 45 million copies sold, the confessional 1977 LP from a band embroiled in personal drama still sounds as compelling and fresh as it did on release. Johnnie talks to the drummer who leant his name to the band, Mick Fleetwood, about how the album came to be written.
'Rumours' was the work of the second incarnation of Fleetwood Mac, at the turn of the 1970's founder member and blues guitarist Peter Green left the band. The next few years gave a flavour of what was to come; a revolving door of troubled band members and relationship drama. In 1974 Mick Fleetwood, along with John and Christine McVie recruited Lindsey Buckingham and Stevie Nicks and 'Rumours'-era Fleetwood Mac was born. Mick talks to Johnnie about life in the Fleetwood Mac bubble, from the relationship dynamics of the band to drug abuse and rock and roll decadence and the strange alchemy that produced such iconic songs as 'Dreams', 'Go Your Own Way' and 'The Chain'.
Last on

Music Played
HOUR 1

The Bellamy Brothers

Let Your Love Flow

Country Moods (Various Artists).
Polygram Tv.

Jr. Walker & the All Stars

Take Me Girl, I'm Ready

FLEETWOD MAC - RUMOURS SPECIAL

Fleetwood Mac

You Make Loving Fun

50 Years - Don't Stop.
Warner Bros.
011.

Fleetwood Mac

The Green Manalishi (With The Two Prong Crown)

Fleetwood Mac

Go Your Own Way

Robert Palmer

Every Kinda People

The Very Best Of Robert Palmer.
EMI.

70 SECOND 70S - BLONDIE

Blondie

Sunday Girl

70's Number Ones Vol 3.
Old Gold.
9.

Brighouse and Rastrick Band

Floral Dance

HOUR 2

Andy Kim

Rock Me Gently

Super Hits Of The 70's (Various Artis.
Rhino.

Tavares

Heaven Must Be Missing An Angel

20 Songs Of Love From The 70's (Vario.
MFP.

Dolly Parton

Coat Of Many Colors

Dolly Parton: The Ultimate Collection.
BMG/RCA.

FLEETWOOD MAC - RUMOURS SPECIAL

Harry Chapin

Cat's In The Cradle

Behind The Music The Harry Chapin Collection.
Elektra/Rhino.

The Sutherland Brothers Band

&

Quiver

Arms Of Mary

The Greatest Love Of All (Various).
Old Gold.

Neil Young

&

Crazy Horse

Like A Hurricane

Greatest Hits.
Reprise.
8.

Genesis

Follow You Follow Me

And Then There Were Three.
Charisma.
Broadcast