Main content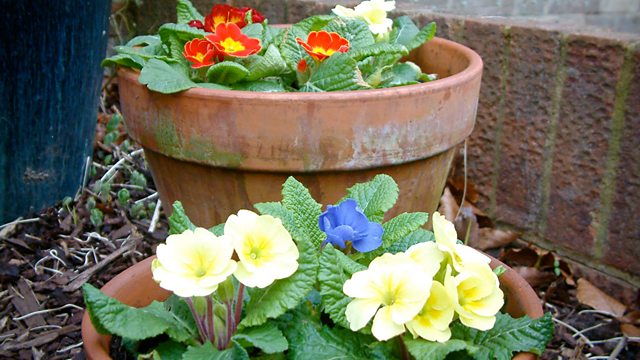 Milton Keynes
Peter Gibbs chairs the horticultural panel programme with gardeners in Milton Keynes. Chris Beardshaw, Bunny Guinness and Pippa Greenwood are on hand to answer audience queries.
Peter Gibbs chairs Radio 4's horticultural panel programme with gardeners in Milton Keynes. Chris Beardshaw, Bunny Guinness and Pippa Greenwood are on hand to answer the audience's queries.
Produced by Victoria Shepherd.
A Somethin' Else production for BBC Radio 4.
For more information on non-native, invasive species of plants please visit the DEFRA website here: http://www.defra.gov.uk/wildlife-pets/non-native
Q: Is it possible to grow peas in small window boxes? What type of seed do you need?
A: It's not easy but smaller varieties like Half Pint, Early Onward or Bingo could work. Use a soil-based compost and a potash feed-base, being careful to protect the plants from the wind and pigeons.
Q: Can you recommend some decorative, long-lasting, edible plants that we can use in our beds and planters for a competition?
A: Chards, lettuces, beans and sweet peas will work well and have a variety of fantastic colours and textures. Thinking laterally you could try nasturtiums, which have edible flowers, or amaranths ('Love Lies Bleeding'), which have edible foliage and seeds and can grow to an impressive three feet tall with wonderful red tails. Bigger vegetables such as the Peacock Tails kale variety are also very impressive.
Q: What are some good alternatives to paraffin heaters to heat a greenhouse?
A: Installing an electricity supply and buying an electric heater with a good quality thermostat will work best. It's not a cheap option but well worth the initial cost because it is far more efficient than paraffin heaters. You could also install a fan to help with the air circulation.
Q: I recently moved house leaving behind a Clematis 'Sealand Gem' that I would like in my new garden. I can't take the whole plant, so when is the best time to take cuttings?
A: It's hard to get a good success-rate taking cuttings from Clematis and even nurseries tend to just buy them in. If you take lots of inter-nodal cuttings from the soft growth you might have some success. Otherwise, try layering the plant in May or June and return next season to move the new growth - it takes longer but has a better success rate.
Q: I have a forty-year-old apple tree that has recently developed a strange reddish-orange rusty patch its on trunk. What is it, and how can it be treated?
A: It sounds like it's probably lichen growing on the bark - this is totally harmless.
Q: I have some fine rust-like seeds collected from a native orchid last summer, are they easy to grow?
A: They are often not too difficult to grow and have fairly high germination percentages, but they may take two years before they start to show. Remember: it's not a good idea to collect seeds from wild orchids.
Q: Gardens are often the subject for paintings. Do the panel have any garden-themed paintings on their walls?
Pippa: I have some wonderful pictures of irises that my mother painted. My daughter also does lots of paintings of flowers.
Bunny: My father gave me lots of Redouté prints of botanical drawings for our wedding that I have plastered all over the kitchen walls. We also have lots of posters of Italian gardens in glass frames.
Chris: I'm a fan of 'naive art' so my office is covered with loads of pictures by my children - including lots of flowers.