Main content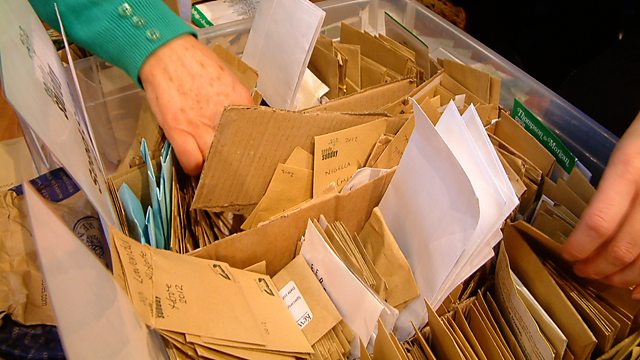 Brighton
Eric Robson and the GQT team visit the Seedy Sunday community seed-swap event in Brighton, with Bob Flowerdew, Bunny Guinness and Christine Walkden on the panel.
This week Eric Robson and the GQT team visit the Seedy Sunday community seed-swap event in Brighton.
As well as sharing seeds with the locals, Bob Flowerdew, Bunny Guinness and Christine Walkden are on the panel taking the audience's questions.
To find out more information about the Seedy Sunday event, visit: http://www.seedysunday.org/
Produced by Howard Shannon.
A Somethin' Else production for BBC Radio 4.
Questions answered in the programme:
Q: I have a sheltered allotment and can't make up my mind whether to have a polytunnel or a greenhouse. What would you recommend?
A: Polytunnels allow you to cover a large area and are good for growing crops in the ground including pumpkins, cucumbers and melons, but they need to be properly ventilated to avoid mould. In greenhouses airflow is easier to manage and they also allow more light in so are an easier option to start with. You can also look at polycarbonate greenhouses which diffuse the light more than glass - a similar effect to polytunnels.
Q: I have a bin bag full of soot that I'd like to use in the garden. How can I best put it to use?
A: Wood ash tends to be fairly alkaline, so it is good for using on heavy clay and acidic soils. You can also use soot for sprinkling around fruiting or flowering plants to keep the slugs away.
Q: Can the panel recommend any summer-flowering bulbs that would do well in my small but very windy garden, near the sea?
A: Agapanthus does very well in little soil and can stand windy and salty conditions. Try the Blue Storm or White Storm varieties which have impressively big heads. Also look at the smaller varieties of gladioli which can be colourful and have flowers which last all summer.
Q: I planted garlic, not last Autumn but the one before and it didn't come up. Yesterday I spotted a whole row about 6 inches tall in the same place, could that be it finally sprouting?
A: It's not unusual for bulbs to sometimes go dormant if it's been particularly cold, so it's likely that your garlic is only just deciding to brave the weather.
Q: Recently I finally tracked down fresh seed of Persicaria orientalis (or 'kiss me over the garden gate') after several years of searching. What seeds are the panel searching for and what eludes them?
Christine: Adlumia fungosa. It's a climbing plant that has fine grey-greenish foliage and bleeding heart flowers.
Bunny: I'd like to find Carex pendula (or 'Moonraker'). It's similar to the natural sedge that can be a real pest in your garden, but I'm told it is less invasive and features a white line through it.
Bob: Mr Kidner's Regal strain of asparagus. It's related to a giant variety that he produced which would grow astonishing 8oz (227g) asparagus spears.
Q: I recently gained access to a balcony about 2ft (61cm) square, 20ft (6m) up facing north-west. What does the panel recommend I grow?
A: Try getting a deep pot and some hanging baskets to create tiers. To feast the eyes and palette, try planting thyme, climbing French purple beans, purple onions and chilli peppers.
Q: I've got several 12 foot cacti in my conservatory, which are continuing to get even bigger and have broken through the glass roof despite my efforts to prune them with a bread knife. Do you think I could move them outside?
A: Many Epiphyllums, Pachysandras and larger 'organ pipe' cacti manage to survive cold temperatures in places like Mexico, but there the roots generally remain bone dry. If you want to ensure that over here then you might have to consider investing in some heated cables to keep the roots clear of the cold and wet.
Q: We have a fig plant variety called 'Brown Turkey' which after quite a few years is finally starting to fruit quite nicely. The plant is badly-placed visually though. Would it be worth moving it?
A: Fig root systems tend to be pretty big and very deep so they're difficult to move without causing a disturbance. Instead you could try taking cuttings, transplant a sapling, or just plant a new variety and phase the old one out. The 'Desert King' variety is a good option if you want to try something different.
Q: Do the panel have a favourite weed? If so, what and why?
Christine: Ground elder. I grow the variegated form and it makes superb ground cover and bank stabilization. Whilst it's most-often considered a pest it is architecturally stunning planted in the right place and has elegant flowers.
Bunny: Yew, Taxus baccata. I planted my yew hedges from cuttings and love to see it self-generating.
Bob: Stinging nettles because they're great for composting and I like to eat the tips fried with bacon and shallots.