Main content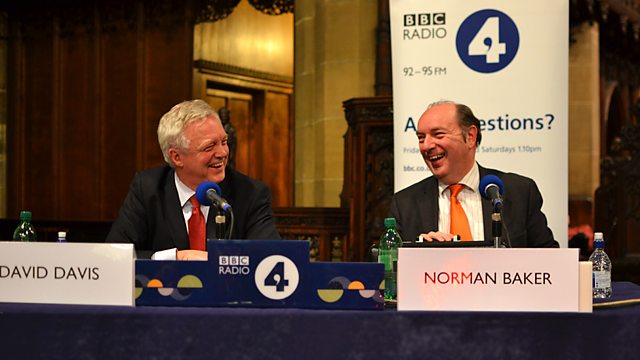 David Davis, Norman Baker, Alan Milburn, Julie Bindel
Jonathan Dimbleby presents political debate and discussion from St Chad's Church, Gateshead. Guests include the former Health Secretary Alan Milburn, conservative MP David Davis, coalition Transport Minister Norman Baker MP and feminist Julie Bindel.
Producer: Lisa Jenkinson.
Featured
Question 1: Stafford Hospital scandal

Why is the person in charge of Mid Staffs NHS Trust not facing manslaughter charges?

Question 2: NHS reform and whistleblowing

Should we ask nurses which hospital to send a loved one to?

Question 3: Same-sex marriage

Does extending marriage to same-sex couples make the institution less meaningful?

Question 4: GCSE changes

Is Michael Gove a man in too much of a hurry?

Question 5: Page 3

Does the panel think page 3 is sexist and outdated in today's society?

Download: Political Thinking with Nick Robinson

Jonathan Dimbleby's Seven Surprising Moments from Any Questions?