Main content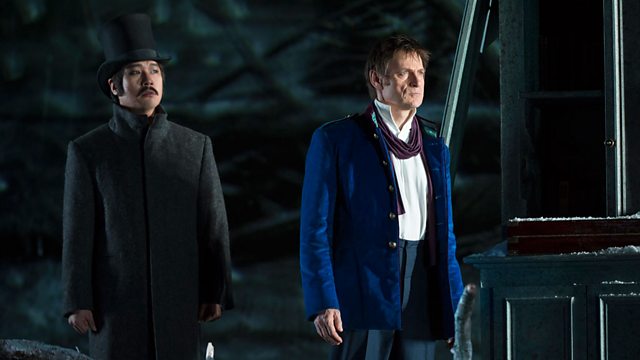 Eugene Onegin, Biotechnology, Extinction, Liberty and Security
Philip Dodd reviews the new Eugene Onegin at Covent Garden. Plus the benefits of extinction: can the demise of species actually be good for evolution?
Kasper Holten - the Royal Opera House's new Director of Opera - makes his much anticipated debut with Tchaikovsky's Eugene Onegin. Will it be as radical as his recent Ring Cycle for Royal Danish Opera? Opera Now Editor Ashutosh Khandekhar joins Philip Dodd to review.
Philip talks to psychologist Bertolt Meyer, the model for the world's first complete bionic human and recipient of a bionic arm. Is biotechnology now surpassing nature?
Should we be worried if species disappear off the face of the earth? A new exhibition at the Natural History Museum in London looks at the positive sides of extinction. With palaeontologist Norman Macleod, scientist Georgina Mace and psycho-geographer and poet Iain Sinclair.
And are the notions of liberty and security antithetical? Philip speaks to the lawyer Conor Gearty, who argues we live in a so-called democratic world where proclamations on universal liberty and security are mocked by facts on the ground.
Produced by Anne Khazam.
Chapters
Bertolt Meyer

Philip talks to Bertolt Meyer, the model for the world's first complete bionic human

Duration: 12:09

Eugene Onegin

Opera Now Editor Ashutosh Khandekhar joins Philip to review Eugene Onegin

Duration: 07:43

Extinction

A discussion on Extinction and a new exhibition at the Natural History Museum

Duration: 13:22

Conor Gearty

Philip speaks to the lawyer Conor Gearty about his new book Liberty and Security

Duration: 11:14