Main content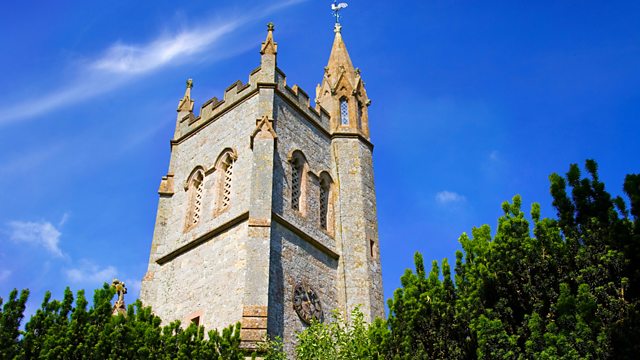 03/02/2013
One the eve of the Feast of the Presentation of Christ in the Temple, Canon Mark Oakley from St Paul's Cathedral explores how the church can be loyal to the past and the future.
In a feature edition of Sunday Worship, Canon Mark Oakley, from St Paul's Cathedral, explores how the Church can be a bridge to the future.
On the eve of the Feast of the Presentation of Christ in the Temple, Canon Mark Oakley, from St Paul's Cathedral, explores how the Church can be loyal to the past and the future. In a series of reflections around the cathedral and meeting visiting youth groups who are part of the cathedral's education outreach programme, Mark Oakley examines the response of the Church to some of issues facing it today.
Producer Mark O'Brien.
Sunday Worship feature
SUNDAY WORSHIP
Now it's time for Sunday Worship where Mark Oakley, the Canon Chancellor of St Paul's Cathedral, offers a personal reflection on how the Church can be loyal to the past and relevant to the future.
Good morning. I'm standing on the Millennium Bridge here in London, looking onto St Paul's Cathedral where I work. Over its many years it has been a place of national thanksgiving and celebration, a symbol of resilience and of resistance to forces that threatened democracy during the war years. But as I stand here and see the towers of commerce that have sprung up since then, as well as the banks, the theatres and art galleries and, just in the distance, the houses of parliament, a question haunts me. We are used to the Church trying to be loyal to the past but what would a Church look like that is trying to be loyal to the future? At a time when the Church undergoes some difficult debates and is often looked on with puzzlement or anger for its compromises and self-preserving caution, it is as if a spiritually hungry society, seriously in search for authenticity and wisdom, finds the Church just too corporate, modelled as a chaplaincy to a disappearing world rather than on the reckless generosity and heretical, outspoken love seen in Jesus Christ. The Church finds itself in an important, and therefore uncomfortable, place of decision. How will it be loyal to the future, contribute that energy and perception that is so needed to help bridge our world's today with a more just tomorrow? How will it sing that majesty of God who loves us all just as we are but who loves us so much he doesn't want us to stay like that?
HYMN: How shall I sing? (Loving Shepherd - Hymns from Blackburn Cathedral LAMM 180D)
Well, I've come into the cathedral now and am making my way up the nave towards the dome, and as I do so, I'm surrounded by many visitors and pilgrims from around the world. And coming through the doors just now, as I do every day, I was reminded of the words of that well known prayer:
May the doors of this church be wide enough to welcome all in need of love and encouragement and narrow enough to shut out all human pride and envy.
And as I stand here, under the dome now, those words resonate, because this is a space in the cathedral  that we often use for debate and the sharing of ideas on the many issues that we face today. 
It has been said that in his life Jesus did not answer people's questions so much as question their answers. For a long time people have come to the Church expecting lots of answers and the Church has felt obliged to give them, often seduced by too quick a clarity or control. But the question as to how we are all to be loyal to the future is a shared one, for Church and everyone alike. Many answers we have come to take for granted need to be questioned for let's not be too abstract. When we say the future, we are talking about you maybe, but certainly your children, grandchildren, young friends. And we are talking about the sort of the world they will be caught up in: the air (spiritual, political, chemical) that they will breathe. And not only them but those who find themselves born across the planet as victims of others decisions, of a changing climate and sea level, of war, poverty and all those victims of that almost respectable evil called indifference. If it is true that in the West we are spending money we don't have on things we don't want in order to impress people we don't like, then we need to pull out of this deathly circle that preaches survival of the fittest but never tells us fit for what. The Church's contribution as to how we do this will only be energised by the spiritual perception and truth telling of Jesus Christ that disorientates prejudice, saving us from ourselves. Yesterday the Church remembered the day that Jesus was brought into the Temple as a baby by his parents and was met by an old man, Simeon.  In our reading from the Gospel of Luke, we hear how Simeon, in his great age, was looking for truth, a truth able to save people from self-destruction, and when he saw the child, knew that he could now die in peace. It's read by Canon Michael Hampel, the Precentor of the Cathedral. 
READING - Luke 2:25-35
25Now there was a man in Jerusalem whose name was Simeon;* this man was righteous and devout, looking forward to the consolation of Israel, and the Holy Spirit rested on him. 26It had been revealed to him by the Holy Spirit that he would not see death before he had seen the Lord's Messiah. *27Guided by the Spirit, Simeon* came into the temple; and when the parents brought in the child Jesus, to do for him what was customary under the law, 28Simeon* took him in his arms and praised God, saying,
29 'Master, now you are dismissing your servant* in peace,
according to your word;
30 for my eyes have seen your salvation,
31 which you have prepared in the presence of all peoples,
32 a light for revelation to the Gentiles
and for glory to your people Israel.'
33 And the child's father and mother were amazed at what was being said about him. 34Then Simeon* blessed them and said to his mother Mary, 'This child is destined for the falling and the rising of many in Israel, and to be a sign that will be opposed 35so that the inner thoughts of many will be revealed.'
MUSIC – Nunc Dimittis (Geoffrey Burgon – Golden favourites from St Paul's Cathedral CRCD 7024)
Simeon's words set to music by Geoffrey Burgon, present that moving picture of the elderly and wise entrusting the future to the one who comes after.  Simeon allows God to work afresh in a new generation and with humility completes his own service. St Paul's has many people in its family and one of our most loved members is Maurice who continues to volunteer each day and describes himself as nearer 100 than 90. He is especially loved as a reader to the children in our school. To see Maurice get younger each day as he befriends the children is a marvellous sight. Maurice is our own Simeon, very much a man who is loyal to the future by the wisdom and love he passes on to the young.
 Maurice Clip
MUSIC – Christ be the Lord of all our days (22 Great Hymns from St Paul's Cathedral GCCD 4058)
I'm now standing in the dome of the cathedral, looking down on the place where a few months ago I was part of a vigil for those whose lives have been brutally ended or affected by hate crimes. As I watched the women and men come in I could see how many of them were unsure whether this was a safe place for them. Gay, transgendered, black, Asian, disabled, immigrants, many living in tough circumstances with little money – some with faith, others not – all wondering whether they could be themselves in this place, whether the judgement and hate thrown at them from people and press was still here in the church but hiding in holiness? How much of a Noah's ark did we dare to be that night, every wonderful creature having to budge over in the straw a bit to let another settle in? Perhaps, after all, diversity didn't have to lead to division. It made us all understand God a bit differently, less in our own image by being confronted with the fact that everyone there was made in God's. We discerned that the cathedral space might be a place to learn to live up to the voice of love that comes from God and not live down to the voice of hate from the world's fearful and regimented kingdom of flaunt. God's gift to everyone is their being. Their gift to him is their becoming, who or what we become.
That night we knew that the Church has and can victimise minorities and fails to stand up for the vulnerable and marginalised. St Paul's included. But we could also see that God is bigger than the Church, is bigger than the world, and that the only promise worth making in this life is love. Love in relationships and the social form of love we call justice: these are loyalties to the future. For the first Christians, faith in God was not some sort of feel-good internal therapy. It was a sworn oath of loyalty with a fearless obligation to the people and world that God cherishes, longing to see on earth what is in heaven, and they knew there was a cost, that something had to give. I have no doubt that the Church is being challenged by God to become more loving, more upholding of human dignity in all its shapes and sizes, more prophetic for the world's forgotten – in other words, humbler.
Escaping Germany in 1935 at the age of 11, the Jewish poet Yehuda Amichai often brings together strength and vulnerability in his poems, knowing that when the longing for discovery dies the pulse of faith and humanity begins to weaken.
POEM – The Place Where We Are Right – Yehuda Amichai
HYMN – O King enthroned on high (22 Great Hymns from St Paul's Cathedral GCCD 4058)
As we think about the future it is vital that we take our children seriously, so often our teachers rather than learners. At St Paul's about 27,000 children visit the cathedral each year, many of them in school trips. Our Schools and Families department is run by a dedicated group, many volunteers, and lead by Janet Marshall....
CLIP JANET
Christian's don't believe in a God who once spoke but in a God who still speaks. So often his voice is heard in children whose freedom and perception see through all those restrictions we like to call adult. Jesus, we are told, set a child in the middle of his disciples and told them the kingdom of heaven looked very similar. In psalm 96 we are reminded of a God, forever ancient, forever fresh, whose eternity is his youthfulness. In this modern setting by James MacMillan we are invited to sing the Lord a new song as we call upon his name.
MUSIC – A New Song (Mass and other sacred music –CDA67219)
I'm now in the small chapel where shortly a few people will come together, as they do each day, to say morning prayer. This time, for me, is one of the most beautiful at St Paul's, at the beginning of the day just as the doors have been opened, the light comes in at odd and surprising angles. It's restful here. These first prayers of the day are offered in the chapel I'm in now, where Holman Hunt's painting of Christ as the Light of the World hangs: the night is past, we say, the day lies open before us. Every church is first and foremost a place of worship and prayer, this is the pulse that sets the rhythm for everything else, but they are also places where people should feel that their questions are valid, their experience matters, and where they can come to bring their doubts and anger before the mystery of God as well as their reverence.
PRAYERS
Lord's Prayer
The Australian poet Les Murray wrote that God is in this world as poetry is in the poem. Like most poetry it has to be read well, over time, puzzlement is part of the deeper journey and patience is demanded of us. This cathedral, and every church, is here for that puzzlement and patience as much as it is for celebration and thanks. It is here to ask difficult questions of ourselves and of the world. It is here to speak out for those who can't, something very important the Occupy movement reminded us of. It is here to remind us of the deeper resonances of life that make it so often appear gift-like, trustworthy, as beautiful as it is fragile. It is here to celebrate love wherever it is found, goodness wherever it transforms, and faith where it gives hope. It is here to ask the urgent question of how, as human beings, we can now together be loyal to our shared future. As Churchill said, we make a living by what we earn but we make a life by what we give.
And so:
May God bless you with a restless discomfort about easy answers, half-truths and superficial relationships, so that you may seek truth boldly and love deep within your heart.
May God bless you with holy anger at injustice, oppression, and exploitation of people, so that you may tirelessly work for justice, freedom, and peace among all people.
May God bless you with the gift of tears to shed with those who suffer from pain, rejection, starvation, or the loss of all that they cherish, so that you may reach out your hand to comfort them and transform their pain into joy.
May God bless you with enough foolishness to believe that you really CAN make a difference in this world, so that you are able, with God's grace, to do what others claim cannot be done. Amen.
MUSIC – There's a wideness in God's mercy ( 22 Great Hymns from St Paul's Cathedral GCCD 4058)
END