Main content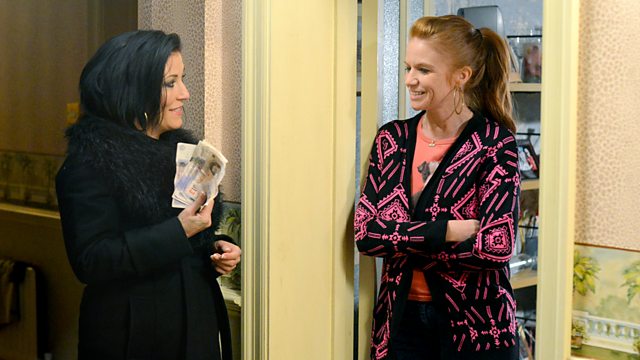 29/01/2013
Masood encourages Ayesha to follow her dreams, but this backfires when Zainab interferes. Tyler and Whitney talk about getting their own home, but things take a turn for the worse.
Ayesha receives flowers from Rasheed, inspiring Zainab to invite him round. Knowing Ayesha won't want that, Masood suggests they install the water feature first, to buy her time. Zainab still hasn't told Masood she didn't get the job, but Masood finds out; hurt she didn't tell him. Zainab suggests it's a blessing in disguise: she can focus on Ayesha now. Returning from secretly collecting journalism course brochures (and a youthful hat for Masood Zainab mocks him for) Ayesha pretends she met Rasheed. Masood insists she tell Zainab her true feelings for Rasheed, but Zainab isn't interested; adamant Rasheed's her perfect suitor. Ayesha cries to Masood, telling him she loves him.
Kat suggests to Bianca they set up a stall; they just need start-up money. Bianca asks Whitney to lend her some, but Whitney reveals her and Tyler need to save as they want to move out. Kat considers pawning her wedding ring but Alfie sees. Later discovering their plans, Alfie offers Kat some money. Reluctantly, she accepts. Kat and Bianca celebrate, but are interrupted by AJ who's been promised dinner by Bianca for buying some items off her earlier. Taking his wine before shutting the door in his face, Bianca announces she didn't say tonight!
Initially excited over the prospect of getting their own place, Whitney and Tylers' dreams are shattered after Whitney tells Tyler she kissed Joey. Tyler and Joey fight and Tyler finishes Whitney.
Sharon tells Max to find somewhere else to stay. He pretends there's a mate's house he could go to. Dot tells Sharon he's lying, convincing her to take him back. Sharon tells Max he can return, but only if he stops asking about Tanya!
Michael unsuccessfully asks around for babysitters. Overhearing Alice has been sacked, he offers her the job. She agrees.
Music Played
Timings (where shown) are from the start of the programme in hours and minutes
Credits
| Role | Contributor |
| --- | --- |
| Masood Ahmed | Nitin Ganatra |
| Ayesha Rana | Shivani Ghai |
| Zainab Khan | Nina Wadia |
| Tyler Moon | Tony Discipline |
| Joey Branning | David Witts |
| Whitney Dean | Shona McGarty |
| Lauren Branning | Jacqueline Jossa |
| Bianca Butcher | Patsy Palmer |
| Kat Moon | Jessie Wallace |
| Alfie Moon | Shane Richie |
| Max Branning | Jake Wood |
| Jack Branning | Scott Maslen |
| Sharon Rickman | Letitia Dean |
| Dot Branning | June Brown |
| Michael Moon | Steve John Shepherd |
| Alice Branning | Jasmyn Banks |
| AJ Ahmed | Phaldut Sharma |
| Tiffany Butcher | Maisie Smith |
| Morgan Butcher | Devon Higgs |
| Dennis Rickman | Harry Hickles |
| Dom Edwards | Christopher Hughes |
| Executive Producer | Lorraine Newman |
| Director | Richard Lynn |
| Writer | Paul Quiney |