Main content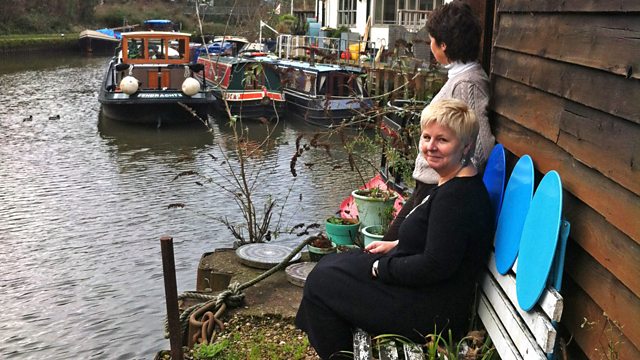 Johnsons Island
Peaceful Johnsons Island sits among the hustle and bustle of West London. Helen Mark discovers the artists and boat-lovers who make up its community.
Tiny Johnsons Island sits in contrast to the hustle and bustle of Brentford and West London surrounding it. At the confluence of the Rivers Thames and Brent and the Grand Union Canal, the area was important historically for the barges that had carried goods from Birmingham. Nearby boat yards continue to repair and renovate vessels of all types while shiny new developments overlook the island - a mixture of old and new alongside one another. Helen Mark meets the community of artists who work on Johnsons Island and discovers how its nature and surroundings inspire them. A small gallery has been set up to exhibit their work but also to honour the late local character and 'naive artist' Barry Jones - an accomplished jazz musician who sold art works for beer money. The island is shared by one of the boatyards, complete with wet dock, chickens, bees and allotments. Yet many don't know of the island's existence, let alone its history. Helen explores the secrets of Johnsons Island.
Produced by Anne-Marie Bullock.
Podcast
Countryside magazine featuring the people and wildlife that shape the landscape of Britain