Main content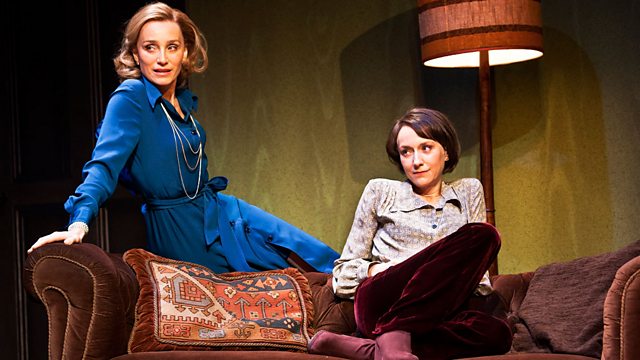 Kristin Scott Thomas and Lia Williams; Kurt Schwitters exhibition
Mark Lawson talks to Kristin Scott Thomas and Lia Williams as they appear in Pinter's Old Times, plus the art of Kurt Schwitters, and how ideas about offensive language change.
With Mark Lawson.
Kristin Scott Thomas and Lia Williams star in a new production of Harold Pinter's play Old Times, in which three characters are locked away in a secluded farmhouse and reminisce about their early days together in London. The two actresses discuss the play and how they are addressing the challenge of alternating roles during the show's run.
The one-time Dada artist Kurt Schwitters fled the Nazis, was interned at a camp in the Isle Of Man, and spent the rest of his life after the war in a barn in the Lake District. As his work goes on show in a major new Tate exhibition, novelist Iain Sinclair delivers his verdict.
Two films by the off-spring of famous directors are about to reach our cinemas. Chained is a psycho-drama directed by Jennifer Lynch, daughter of the man who gave the world Blue Velvet and Twin Peaks, David Lynch; Antiviral is a futuristic satire on celebrity culture helmed by Brandon Cronenberg, the son of Videodrome and Crash auteur David Cronenberg. Ryan Gilbey discusses whether sons and daughters can ever emerge from the daunting shadow cast by their famous film-making parents.
And with issues of strong language in the air in Django Unchained and the edited repeats of Fawlty Towers, Mark considers how you teach books which contain words now considered unacceptable, but which are present in school set texts - such as Of Mice and Men. What kind of dilemma does this present for teachers and how do students respond? Two teachers discuss the issue.
Producer Dymphna Flynn.
Chapters
Kirsten Scott Thomas and Lia Williams

Duration: 09:14

Ryan Gilby discusses the films made by sons and daughters of famous directors

Duration: 05:41

A discussion on how ideas about offensive language change

Duration: 07:12

Iain Sinclair reviews artist Kurt Schwitters at Tate Britain

Duration: 05:21