Main content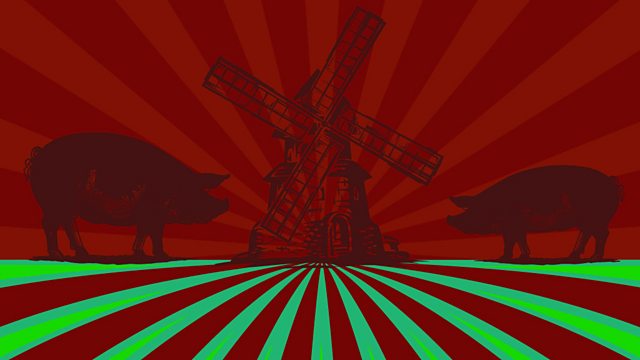 Animal Farm
Orwell's dramatisation of his tale of the corrupting effect of power is narrated by Tamsin Greig and features Nicky Henson, Toby Jones, Ralph Ineson and the Radio Drama Company.
Animal Farm opens The Real George Orwell, a month-long celebration of the writer's life and work.
One night, on an English farm, Major the boar recounts his vision of an utopia where his fellow creatures own the land along with the means of production and are no longer the slaves of humans. Before long, his dream comes true and for a short while all animals really are equal. But the clever pigs educate themselves and soon learn how to extend their own power, inevitably at the expense of the rest of the community.
Musical director ..... Neil Brand
Adapted from his own novel by George Orwell
Director ..... Alison Hindell
George Orwell described his short novel as a fairy story and it is deceptively simple to read. Regularly on the school syllabus, this well-loved tale is, of course, a satire on the Soviet Communist system and it still reads as a powerful warning despite the changes in world politics since it was first published in 1945. This production uses Orwell's own radio version which was first produced in 1947.
The Real George Orwell : A Radio 4 journey through the labyrinth that is the life and work of George Orwell.
Of course there is no real George Orwell - it was the pen name of Eric Blair - but he was a writer and political commentator who is very hard to pin down. Ever since his early death in 1950, he has been the darling of some on both the left and the right of British politics - whilst being reviled by others. For all the beautiful simplicity of his writing and storytelling Orwell/Blair is a complex mass of confusions - an anti-establishment, pro-English, ex-Etonian ex-policeman and socialist, who was ardently anti-authoritarian. He was as anti-fascist as he was anti-communist, a former Spanish Civil War soldier who was anti-war but pro the Second World War, and so on and so on.
Through dramatisations of the key books, through four newly commissioned plays that explore the disjuncture between the man who was Eric Blair and the writer who was George Orwell, and through factual programming and readings, Radio 4 will take you on a journey from Burma via Catalonia, Wigan, Jura, Manor Farm along the road that led to Nineteen Eighty-Four, one of the most influential novels of the twentieth century.
Tamsin Greig explains why she wanted to take on the role of Narrator in Animal Farm
Credits
| Role | Contributor |
| --- | --- |
| Narrator | Tamsin Greig |
| Napoleon | Nicky Henson |
| Snowball | Patrick Brennan |
| Boxer | Ralph Ineson |
| Clover | Liza Sadovy |
| Major | Robert Blythe |
| Benjamin | Paul Stonehouse |
| Mollie | Lizzy Watts |
| Actor | Ben Crowe |
| Actor | Will Howard |
| Actor | Gerard McDermott |