Main content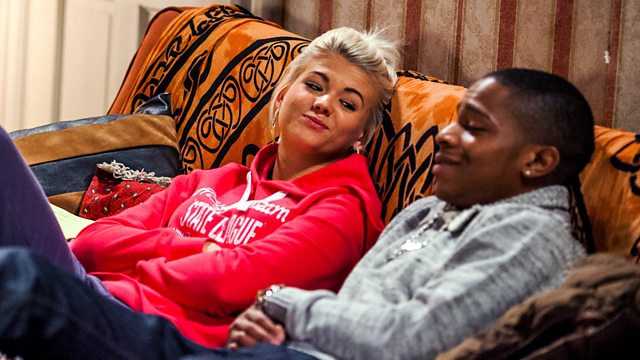 18/01/2013
Tanya is determined to find out what Max and Lauren are hiding, but is not prepared when she makes a shocking discovery. A homeless Cora seeks help from her estranged daughter.
Checking Max's phone, Tanya discovers Kirsty rang the night before. After questioning Max and Lauren, Tanya isn't convinced of their story. Lauren returns Max's credit card. Tanya confides in Sharon, who recommends she speak to Max honestly. Tanya launches a charm offensive with a special lunch for Max and continues to grill him. Max lies about having any contact with Kirsty the previous night. Later, Tanya's dismayed to find Kirsty's room key in his pocket. At the B&B, Tanya lets herself into Kirsty's room and is furiously packing her bags when Kirsty walks in.
Ayesha's nervous about a date with Rashid and her first ever kiss. Later, she returns early. Masood's listening in and intervenes when Rashid presses her for a kiss. Ayesha's upset that the date felt flat. It's clear it's Masood Ayesha still wants; Masood tries to discourage her but advises her to follow her dreams.
Alfie calls for Kat when he hurts his finger which unnerves Roxy. Following advice from Kirsty, Roxy plans to host wild themed nights to cement them as a team. On learning the reason behind her odd mood, Alfie tells Roxy he loves her.
Abi deftly leaves Lola and Dexter together. Lola plays it cool but is thrilled when Dexter wants to watch a DVD together to make up for his previous blunder about Lexi. However, Phil forces her to make Dexter leave.
The B&B's fully booked. Cora asks to stay with Ava – she refuses but reveals she has a new job nearby. Dexter finds Cora, apologizing for getting her in trouble. Cora cajoles Tanya, promising to cook a family meal; Tanya agrees she can stay for one night. Dot's pleased when Abi reports Jay's happier after their chat about Heather. However, when a council worker arrives following up unanswered letters concerning over £1,000 rent arrears, Dot's distressed.
Music Played
Timings (where shown) are from the start of the programme in hours and minutes
Credits
| Role | Contributor |
| --- | --- |
| Tanya Cross | Jo Joyner |
| Sharon Rickman | Letitia Dean |
| Max Branning | Jake Wood |
| Roxy Mitchell | Rita Simons |
| Alfie Moon | Shane Richie |
| Dot Branning | June Brown |
| Cora Cross | Ann Mitchell |
| Patrick Trueman | Rudolph Walker |
| Masood Ahmed | Nitin Ganatra |
| Zainab Khan | Nina Wadia |
| Dexter Hartman | Khali Best |
| Lola Pearce | Danielle Harold |
| Phil Mitchell | Steve McFadden |
| Abi Branning | Lorna Fitzgerald |
| Lauren Branning | Jacqueline Jossa |
| Ray Dixon | Chucky Venn |
| Ava Hartman | Clare Perkins |
| Janie Rivers | Lucy Black |
| Executive Producer | Lorraine Newman |
| Director | Ian White |
| Writer | Jeff Povey |