Main content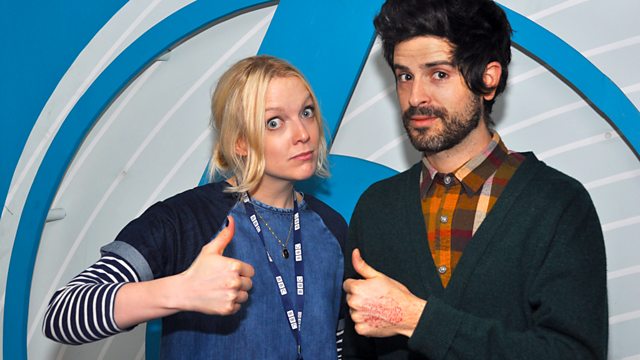 Devendra Banhart in session
Devendra Banhart is live in session, plus Lauren plays out the week's People's Playlist - half an hour of brilliant tunes chosen by listeners.
Devendra Banhart wll be live in session playing tracks from his forthcoming 8th studio album Mala. The album was recorded in his then-home in Los Angeles. (He now resides in New York City.) He and his longtime bandmate, guitarist Noah Georgeson played most of the instruments themselves, using borrowed equipment and a vintage Tascam recorder they'd found in a pawn shop. "A lot of early hip-hop had been made on the Tascam," says Banhart. "And knowing my songs are not hip-hop whatsoever, we thought it would be interesting to see how these kinds of songs would sound on equipment that was used to record our favorite rap. Let's see how this technology would work for us." It was a new approach for the pair. "In the past we were more like, let's use the oldest equipment we could find."
Plus, Lauren plays out this week's Peoples Playlist; half an hour of brilliant tunes chosen by you on a given theme, free music in MPFree and take some time out to enjoy a gorgeous tune in The Headphone Moment.
Last on
Music Played
Adam Green

&

Binki Shapiro

Just To Make Me Feel Good

Kate Bush

Wuthering Heights

Caribou

Odessa

CD SINGLE.
CITY SLANG.
1.

Parliament

Give Up The Funk (Tear The Roof Off The Sucker)

Darwin Deez

Free (The Editorial Me)

Ty Segall

Would You Be My Love

The Smiths

Cemetery Gates

The Normal

Warm Leatherette

Radiohead

Paranoid Android

The Divine Comedy

The Booklovers

Holy Ghost!

Do It Again

CD SINGLE.
DFA/Cooperative.
1.

I Am Kloot

These Days Are Mine

Jagwar Ma

The Throw

DIGITAL SINGLE.
Marathon Artists.

Ariel Pinks Haunted Graffiti feat. Dam Funk

Baby

Mercury Rev

Delta Sun Bottleneck Stomp

Everything Everything

Torso Of The Week

Ghost Capsules

Inside - The Third Mind Remix

Grizzly Bear

Gun Shy (Lindstrøm Remix)

Eric B.

&

Rakim

Paid In Full

Hits Album 7 (Various Artists).
Hits.
1.

Four Tops

Keeper Of The Castle

The Juliana Hatfield Three

Spin The Bottle

Toro y Moi

So Many Details

Tim Burgess

The Doors Of Then

Thought Forms

Only Hollow

Gang of Four

Damaged Goods

Only Real

Backseat Kissers
Broadcast