Main content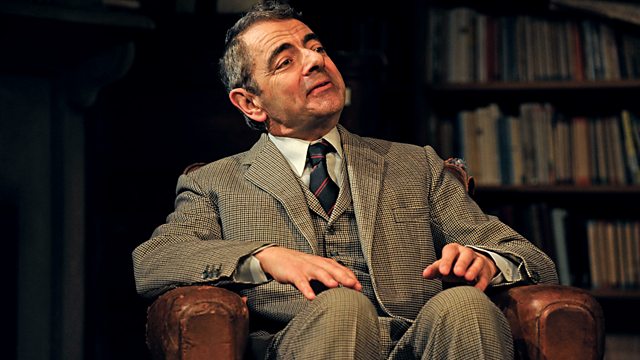 Neil Shubin, Quartermaine's Terms, Syrian Writers, China's Silent Army
Rana Mitter discusses The Universe Within, palaeontologist Neil Shubin's new book which examines how our bodies are intimately tied to past and present events in the cosmos.
Susannah Clapp reviews a new production of Simon Gray's Quartermaine's Terms. It stars Rowan Atkinson as the lonely and professionally impotent St. John Quartermaine and is directed by Richard Eyre. Set across two years in the 1960s, the plays action takes place in the staffroom of a Cambridge school for teaching English to foreign students.
Neil Shubin is a palaeontologist and science populariser. Rana talks to him about his new book, the Universe Within, which traces the history of the cosmos in the human body.
Rana discusses China's small army of entrepreneurs who have travelled to remote areas around the world to invest in them with the author of a new book, China's Silent Army. Does China's investment abroad have sinister and disturbing implications? Juan Pablo Cardenal, co-author of the book, and Professor O.A. Westad discuss whether China is setting itself up as an autocratic superpower, without international scrutiny.
Rana Mitter talks to Nihad Sirees, one of Syria's most established writers about his novel The Silence and the Roar which is now available in English. Although the novel is about a dictatorship in an unknown country, it is very heavily influenced by the author's own experience of living in Syria. They are joined by the Middle East commentator Malu Halasa to discuss freedom, sex and laughter in an oppressive regime.
Chapters
Quartermaine's Terms

Susannah Clapp reviews a new production of Simon Gray's Quartermaine's Terms.

Duration: 07:02

China's Silent Army

Rana discusses China's entrepreneurs who have invested in remote areas around the world.

Duration: 13:54

Neil Shubin

Rana talks to Neil Shubin about his new book, The Universe Within.

Duration: 12:45

Syrian Writers

Rana talks to Nihad Sirees and Malu Halasa about writing in Syria.

Duration: 10:47

Quartermaine's Terms

Quartermaine's Terms is on at Wyndham's Theatre, London until Saturday 13 April 2013.

Neil Shubin

The Universe Within: A Scientific Adventure written by Neil Shubin is published by Allen Lane.

Juan Pablo Cardenal

China's Silent Army is written by Juan Pablo Cardenal and published by Allen Lane on Thursday 31 January 2013.

2012 Costa Book Of The Year

Hilary Mantel has been awarded the 2012 Costa Book Of The Year prize for Bring Up the Bodies. Listen to Hilary talking about the novel in an edition of Night Waves broadcast in May 2012:

Night Waves: Bring Up the Bodies, 56 Up, Babel